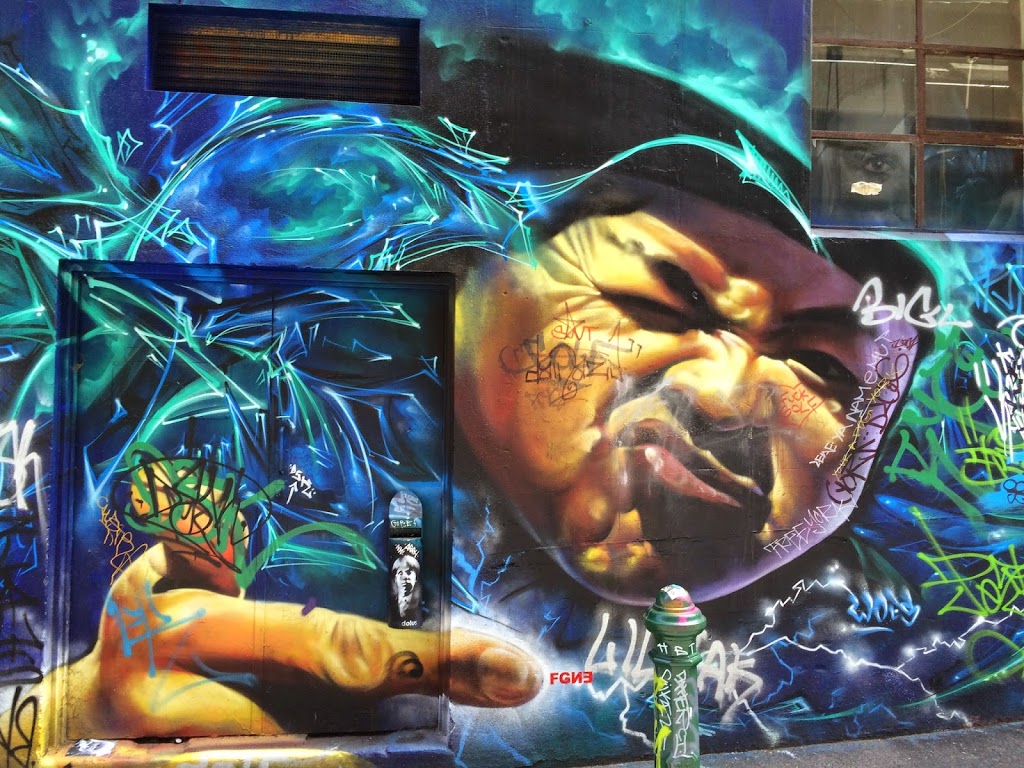 Hey! You know that Mikey Devitt?
This stretch of our journey was a change to having a base and then returning to it each night. We were on the road now, travelling from dawn to dusk, nomads in a white Chuggaboom 6; the white car being the signal for a tourist in Australia.
Averaging 22 degrees and a dry heat, as opposed to the oppressive humidity in the north, Melbourne was a living, breathing, populated city that felt more like England than Perth or Cairns. Even the people seemed more in keeping with what we were used to: there was that familiar atmosphere as soon as we stepped from the plane. This is unquestionably the busiest place we have been to in Oz, with shades of the M25 on the toll road motorways.
After picking up our hire car from East Coast Rentals and wishing we had used Budget again, we somehow, with a rubbish map and our noses made our way to St Kilda where we were staying.
We had booked this place for a few reasons.
1) Bars and cafes
2) Younger, hip and trendy area, cos we are down wid da yoof!
3) Close to the beach
All good reasons. Now, I should explain our selection of accommodation policy on this holiday: cheap. We didn't do swanky Sheratons or Hilton hotels on this trip, it's more Crossroads motels! Having said that, there is budget accommodation like the IBIS chain at the airport which is perfect for a quick in and out, and then there is the dirty cockroach ridden, sticky floored, fuzzy CRT telly showing Turners classic B movies on repeat. We won't sink that low dahling! Well, the apartment we booked into was just above that line. It was bordering on a dump but we were only going to be there one night.
"One night, we can do this!" we said, trying to see the funny side of our booking.
After lugging the suitcase up 2 flights of stairs though, the funny side was turned upside down on my face. There were no lifts, no internet and a nights sleep that was punctured by the bells of a tram that kept going past. Luckily, we had found a public house selling pitchers of beer for 10AUD (a fiver) so for most of the night I was in a comatose state anyway.
When we woke the next morning, we set a new world record for the fastest checkout ever and then headed into Melbourne for the hop on hop off bus which is always the way to gauge a city when you arrive.
As nice to see it, to see it nice it was, we still had other places to fit into our day. We were very interested to head round to the MCG where the cricket World Cup was being held!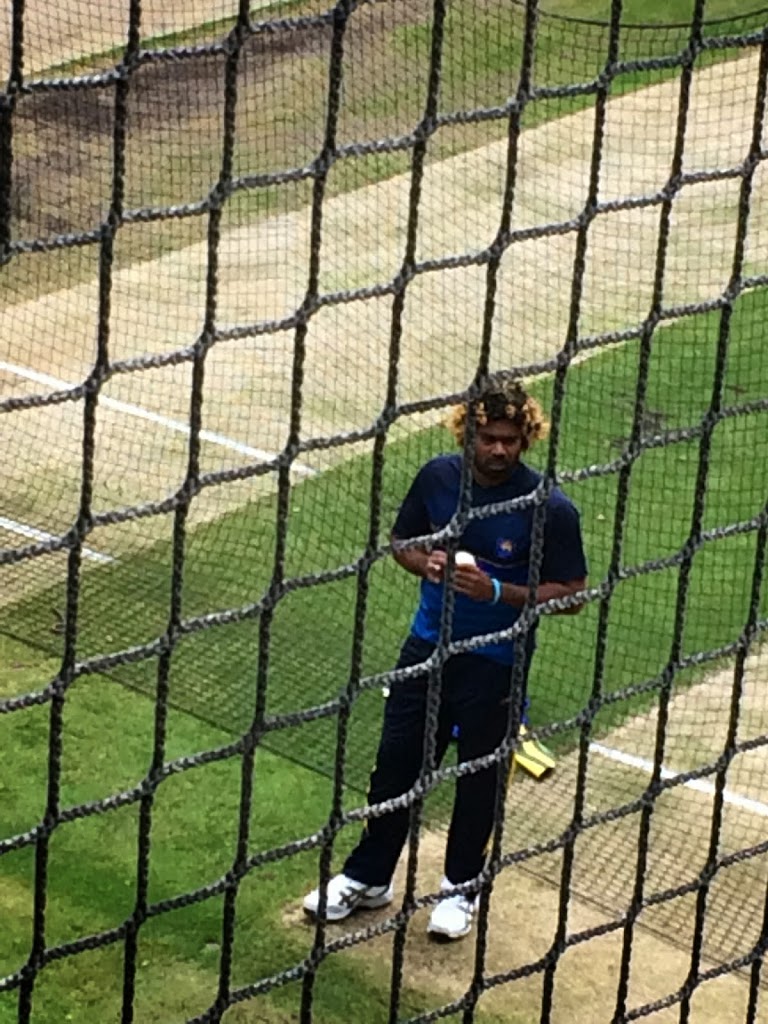 Lasith Malinga
I'm not sure why we love sporting venues so much, but these are the places where humans at the top of their profession show us just how much they are prepared to beat an opponent. For me, Melbourne represents some great sporting moments and to be sitting amongst the place where champions are made was a very special feeling.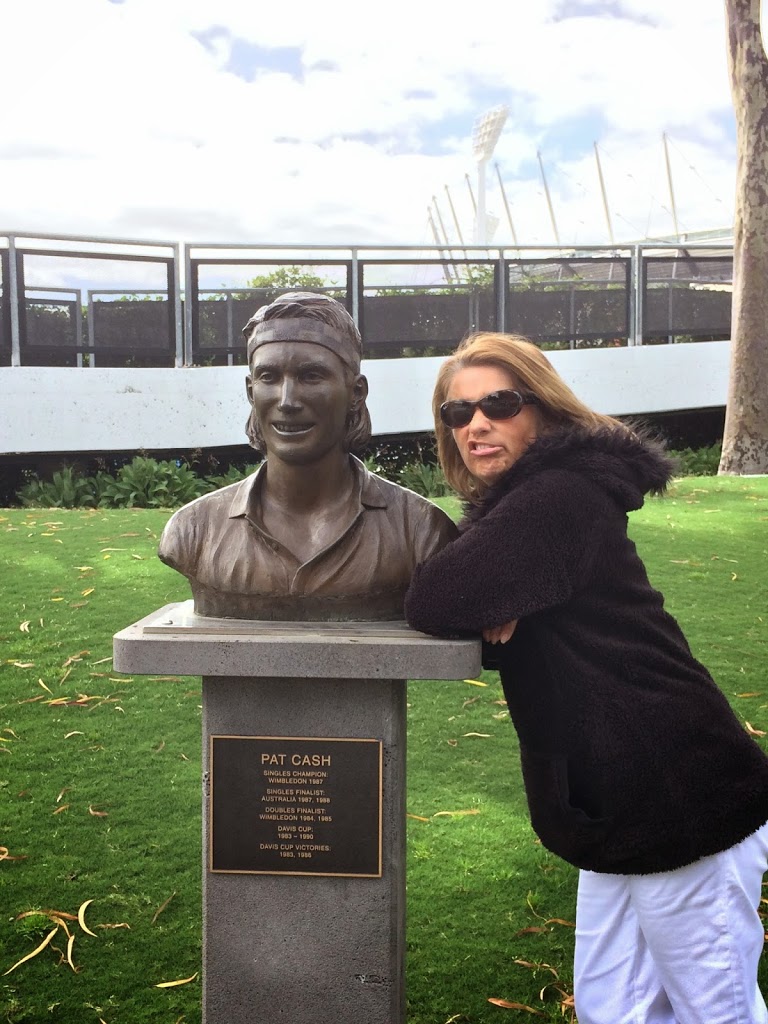 Not Pat Cash's greatest fan!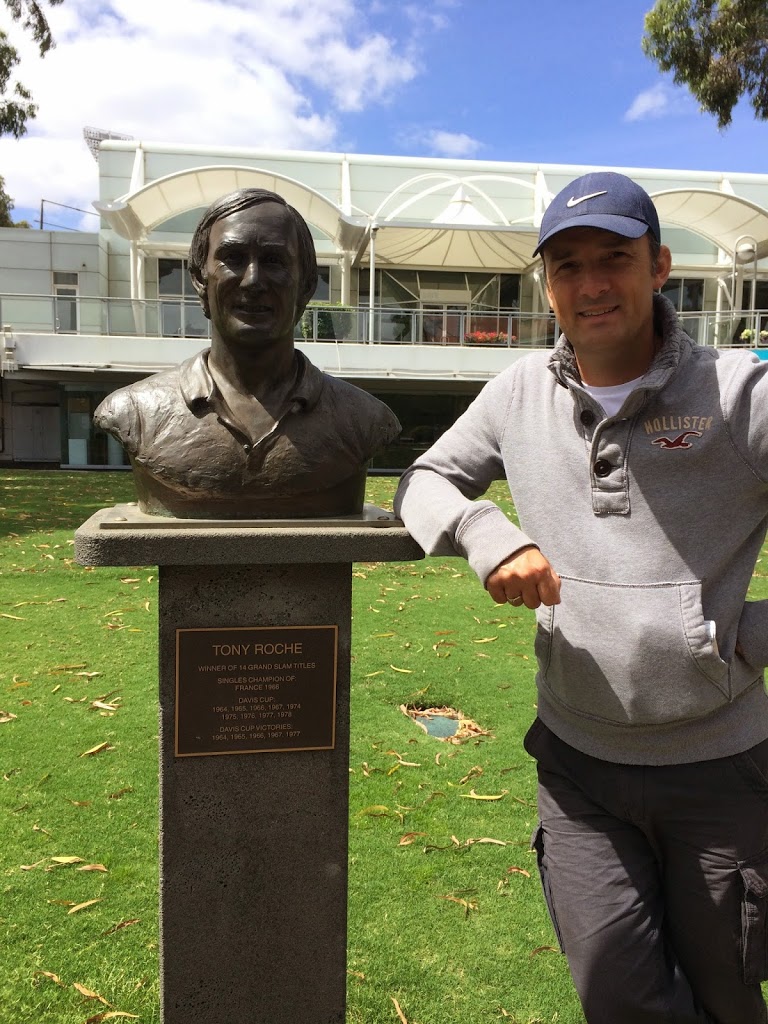 Sat very near to the man himself at Wimbledon last year!
Tennis could be called an art. It is balletic, orchestral and a form of an individual's expression just like the street art or graffiti on Hosier Lane which absolutely blew Michelle and I away with its life like images, use of colour and attention to detail.
Who's got the bigger mouth?
3 hours later, we were a long way south of Melbourne and its incongruous collection of artistic buildings and expression and had arrived on Phillip Island. We stayed in a place called Cowes and drove on the Ventnor road just in time for the penguin parade at the beach.
Contrary to what you may be thinking, this is not a line up with Windsor Davies from 'It ain't half hot mum' saying 'lovely boy' and 'show em off' every few minutes. It is an event when the wild penguins arrive on the beach (after fishing at sea all day) at around 8.30 pm after the sun has set – so that they can avoid the birds of prey – and then head for their nests in the dunes which are little square shaped wooden boxes dotted around the scrub. We thought this would be viewed by a couple of hundred people. After all, the roads onto the island were dead. There were 3,000, and most of them were Chinese. Imagine my face!
We were all asked to not use our cameras as penguins are very timid birds and the flash can not only blind them but make them regurgitate the fish they have caught meaning their young starve. Also, as the area was an outdoor seated amphitheatre it was important to stay sitting down so as to not ruin the experience for others.
So, what did our Asian friends do?
Did they
(A) Sit quietly and put their cameras away.
(B) Push past, stand in front of people and attempt to film as much as they could.
If you selected A then I'm afraid that is the wrong answer. I snapped and along with an Aussie chap we berated these people who were beyond ignorant.
The penguins themselves began to appear from the water and in groups they waddled to the rocks halfway up the beach like a crack SAS squad! Then, they huddled together again and braved the final push.
This went on for an hour and a half. Wave after wave bought new white bellied penguins into shore and sometimes in a panic they headed straight back into the sea. It was an amazing sight. The cost was around 25 Australian dollars each and even though this was a tourist trap, it was a certified treat.
As our heads hit the pillow that night I  focused on the wonder of nature and in Oz, how diverse, beautiful, dangerous and thrilling it is.