Eastern Cyprus' business equivalent to the Oscars was held at the Zappeion Palace in Deryneia last Saturday night. The Daxi Business Awards 2014 was a celebration of all those with entrepreneurial spirit plus a salute to volunteers from the region who give up their time to help others less fortunate than themselves. In short, it is a night full of joy as tables of twelve (totaling 650 guests) turn into human firework displays as nominees are recognised and winners are announced.
So how did we get an invite then? Having turned into Mr and Mrs Nothing, we are hardly an example of what makes good business sense. Well, if you dress up well enough I'm convinced that you can blag your way into anywhere! But in our case, being the honest Howard and Hilda that we are, we relied on our family connections. It was an honour to be there and the awards themselves coupled with the entertainment were a testament to a very professional and slick group of people.
The food was excellent with large trays of barbecued pork, sesame seeded spare ribs, roasted chicken wings, voluminous Greek salads and roast potatoes that were doing a length of the pool in the oil they were drenched in; all supplemented with the English mans equivalent to a dog treat: a free bar!
Now, the problem with a free bar is that most of us just don't know when to stop drinking and by the time the inner monologue kicks in that says you've had too much, it's too late. Inhibitions were cast aside and many of the women turned into Barbara Windsor in Carry on Camping when Kenneth Williams carried out an exercise class and encouraged the girls to 'Fling'! The men weren't much better, attempting dance moves that older stubborn muscles just don't permit and thinking that all the women find them irresistible. However, one particular chap, young and almost as good looking as me, decided he was going to perform a mini striptease! I don't think he intended to show everything as he seemed cool enough to realise ladies don't want a hairy Borat in a tankini. However, the drunken hyenas were baying for a flash of his touche and one of them proceeded to whip down his smalls and provide the gagging masses a full on moon!
Being the highbrow couple we are, we turned away disgusted at such brawlish behaviour but not without catching a quick glimpse for ourselves! Well, you've got to have an opinion!
At the time, we were all getting down, some more than others (lying down) to the combined talents of Peter Andres' brother, Chris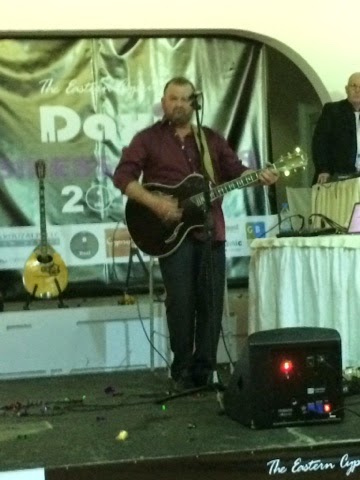 Chris Andre
and the too smooth to move toones of DJ John Lime! Chris Andre is a very talented musician. He played lead guitar to a number of backing tracks, the violin to Zorba the Greek and bizarrely, the theme to Last of the Mohicans. We left before he treated the dancefloor to his mastery of the Bouzouki but in professional terms he left it all out there including his own version of his brothers greatest hit, Mysterious Girl.
DJ John Lime, yes that's Graham from the
Ten Million Turkeys blog
(who also MC'd this event) knew exactly how to keep the evening going with such 80's fare as Come on Eileen and Wake Me Up Before You Go Go. So, the night passed very quickly, which is always a sign of an excellent evening. Many people went home with awards and prizes and all because they were brave enough to throw money at this land of opportunity.
For me, the growing popularity of the Daxi Awards are a great barometer of how the country is faring. The ceremony is the one place where a dignified and well spoken mayor from Deryneia rubs shoulders with a man from the north of England whose company teaches children to swim in one of the outlying villages; a land that recognises the seedy and reprehensible world of sex trafficking and votes in great numbers in 'the outstanding contribution to the community' award for a charity who rehabilitate female victims.
Whatever anyone says about the nonchalance of the Cypriots, I would just say they know who they are and if you make an effort to speak their language your stock immediately rises. Business here is learning how to deliver high standards of customer service with Cypriots, Brits and those blasted eastern Europeans that we moan about in the UK, all working together in perfect harmony. We can all learn from each other.
We leave Cyprus tonight, the first leg of our 9 month hiatus complete. This country from a tourist perspective is without doubt an 8/10 on Trip Advisor. It is evergreen in its culture and Greek traditions, at times a feisty teenager breaking all the rules, but still flourishing and prevailing despite its size and global status: in wedding terms, not even an usher.
The winter here is a ghostly recollection of its incredibly hot summers, colder, but still way better than the lethargic grey of our UK weather. The roads are never busy and you can disappear to any beach and be on your own for the day. As difficult as it was to leave our jobs and head east, so far, neither of us have blinked. We have loved our time here and will miss the great laughs and intense canasta nights with Mick and Dee who have not only been a constant support, they welcomed us with open arms at a time when we both felt very vulnerable and made us feel like we had come home. We salute everyone at home particularly Michelle's mum, Liz, who is keeping the machine of letters from overwhelming us and to my parents who just continue to be there whenever we need them. Blimey, that's almost an Oscar acceptance speech!
Next stop and next blog, Dubai.