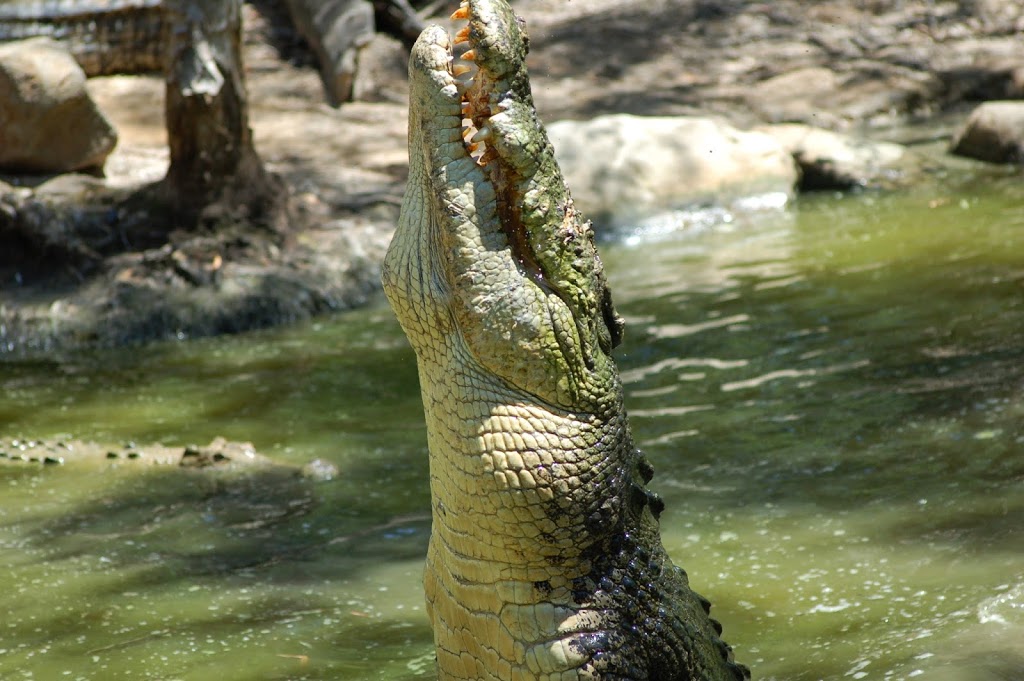 I'm Spartacus and so's my wife!
There has been an overwhelming response in this week's mailbag to the return of our Australian movie hero, and I can confirm Crocodile Dundee was back in action at Hartleys Croc Adventures. Ever since rumours have spread about my recent comeback, the crocs have dove to the depths of all the creeks but at Hartleys there was no escape.
We started with a Croc Cruise learning that Tex was the oldest croc they had in the park at over 100: apparently he's been over 100 forever. Crocs during their lifetime get a new set of teeth every 2 years but poor old Texy can no longer produce any new choppers and now only had one tooth left. However, he was still the most dominant of all the 200 saltwater and freshwater crocs that lay baking in the heat and was 6 metres long! Dominance is measured by how high a croc is in the water and seeing as Tex was practically floating on the surface eyeing up all the tourists hanging over the terrace to see him, I'd say he was the Don!
As our boat circled the lake, our handler, Damien introduced us to all the snappers by dangling chickens over their noses.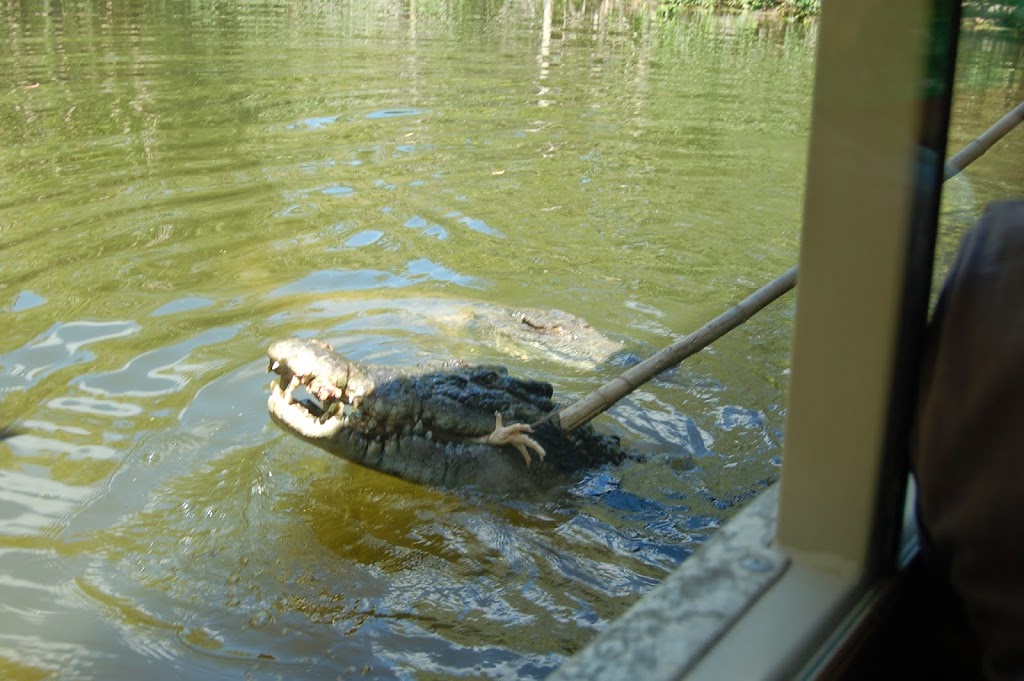 Croc Breakfast!
Let me tell you, they were chomped very quickly and the height they can leap vertically (full body height) is something to behold.
As usual, on our tour there were a consummate amount of Chinese tourists and after a few of them decided to feed the crocs some human food (which prompted Damien to admonish them) I was tempted to see what the crocs would make of a tasty bit of tourist. Oh, I can hear you saying words like 'harsh' and 'terrible' but until you've been subjected to their persistent pushing in and lack of doing anything they are asked then you cannot know our pain. We have tried not to let them taint our stay but like the mossies, nothing works on them.
More croc feeding and an amazing talk by another Croc handler. Craig introduced us to the malevolent Spartacus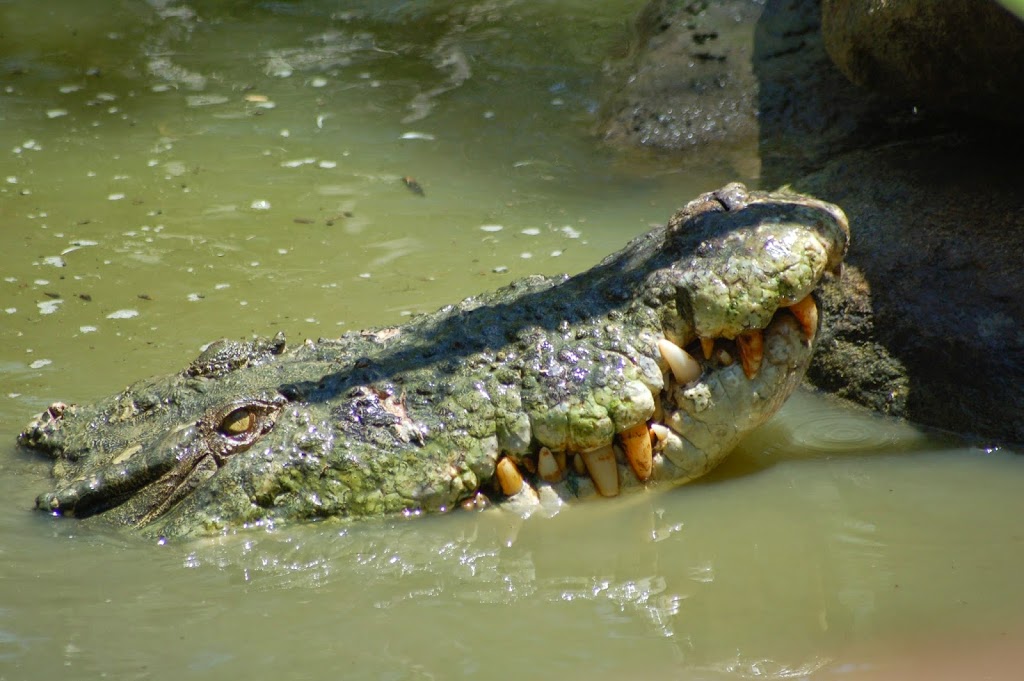 I want to eat…… all of you!
who we couldn't see as he was hovering under the water until a tasty chuck was offered to him. We learnt that a Croc can go without food for 6 months or more and that they are usually fed one chicken a week. Craig also spoke about how most of the deaths by Crocs were caused by those that thought they could dive into a creek and swim to the other side.
Rush Hour.
He floored us with the fact that for every square km in Queensland there are 15 crocs. He also demonstrated that the mothers bury their eggs under mounds of mud and even though they do not have a need to sit on them they protect them fiercely by just being in close proximity. Craig sent young Jamie, his assistant, to walk toward the eggs giving us all a wow moment as Mum suddenly appeared to chase him away and Jamie duly obliged, what a wuss !
Hold on there mama, I'll just go and get Mick!
As they knew that there was a celebrity in their midst, yours truly, Mick J Dundee Devitt. I was then invited to step forward to show these blighters who is boss. As you can see from the photographs, I got in there with them, performed a number of death rolls, and then hand fed them their KFC! A Pom showing the Aussies how it's done!
Mick tempts the croc with a chuckie head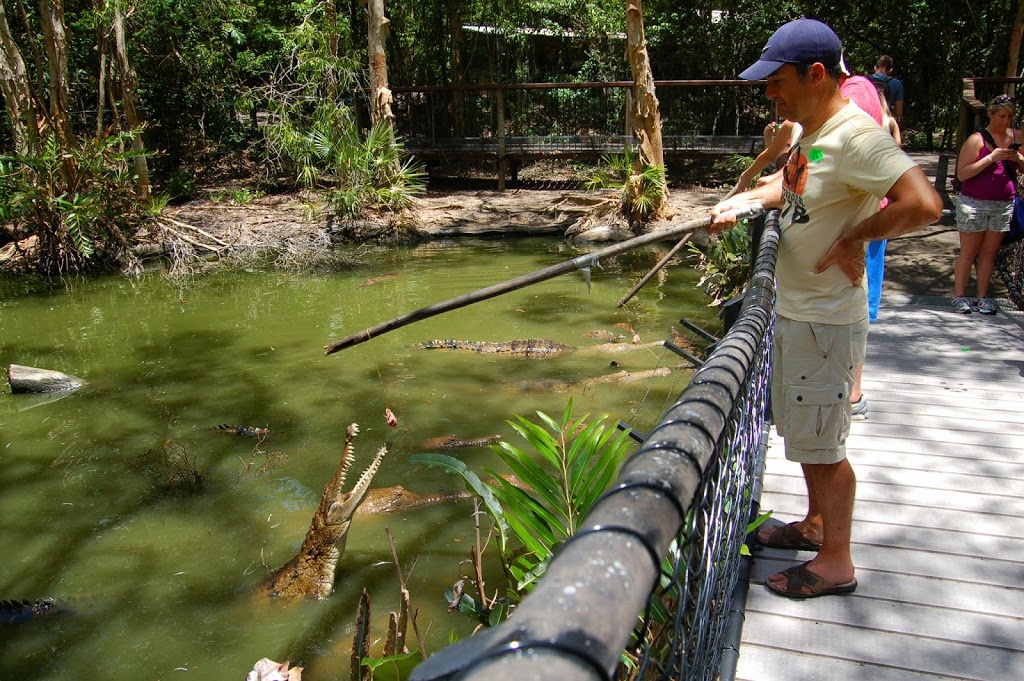 Here Mick demonstrates the casual feed!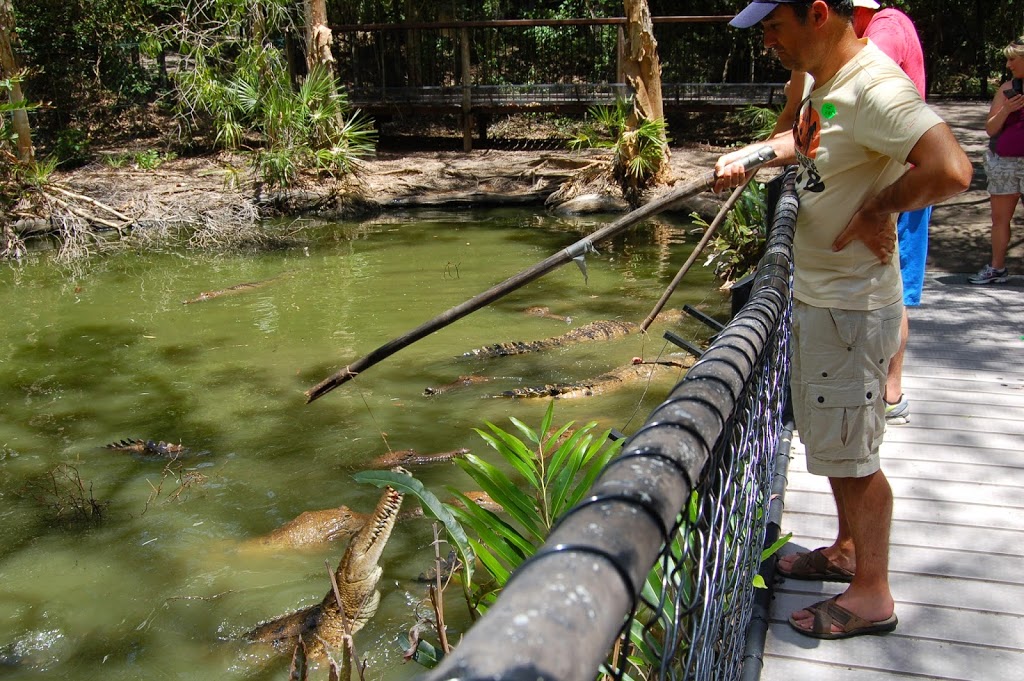 The "mahusive" croc finally gets its reward after Mick has him in his trance!
Our first Kangaroo!
And a chance to stroke them. Michelle got up close and personal first
and then as you can see I showed her how to really tame the animal!
These were magical moments and we sat in the shade with the Roos for about 15 minutes as we had them to ourselves.
On our way back for the snake show (yes, there are snakes coming up) we stopped to see the Koalas having a snooze and you can clearly see which is the male and female in these pictures.  The male is sleeping with its arms stretched out still trying to exfoliate the ear bashing it's received during the day
and the female, having shared all her woes and tantrums sleeps serenely ready to pounce on the poor chap the following morning!
Snake show next and if you've seen one snake you've seen them all, except when multi-tasking Croc tamer, Craig is involved. He introduced us to a number of pythons, some venomous, but it was his story of one of his young colleagues that was the scariest. So, 20 years old, fresh recruit to Hartleys, and of course indestructible. I've forgotten his name so let's call him Toby. Toby is the new snake expert in the park and tells Craig that he's going out into the Tropical Rainforest to find Australia's second most poisonous snake: in shorts and a t shirt.
Toby finds the snake, picks it up and the amphibian decides it's not too keen on our Toby doing this. So, he whips around and bites our hero just under the armpit placing him in a five day coma. Luckily, there is a hospital near by where Toby's life is saved with anti-venom drugs pumped into his system for three weeks. Yes, three weeks!
Craig's favourite description of all of these stats that add to the Chinese whisper stories that circulate both online and in local communities is that people think they will be alright.
"Be alright" he says, every time he describes the derring-do that, it must be said, lies with the male. See how balanced I am with these blogs?
The snake we saw was fed a rat which provoked a mass amount of "Yuks" from the assembled audience but that didn't stop our slippery fellow from coiling his body around the unfortunate rodent and then stretching his mouth over the fur: the boys, it had to be said loved it! Craig though could sense the young testosterone and when he asked for volunteers to help him with the largest python he had, three hands shot into the air faster than an eagle can catch its prey. As our commentator draped said 2 metre snake around the boys necks, he spoke to the audience about how he trusted this Python, which while he could bite the boys had never done so in the twenty or so years he had known him.
The boys meanwhile, were trying to untangle themselves from the slithery snake and were not only bumping into each other they were only making their position worse. The audience were laughing nervously as the snakes head came close to the faces of the10 year-olds and Craig turned and removed the constrictor from their frames placing him onto the ledge in front of him for people to stroke!
I dispatched our Michelle (aka Lara Croft – courtesy Steve Mannerings) to the scene, who showed considerable bravery by actually touching it.
When she began to speak in parseltongue my suspicions were confirmed. She was a Slytherin!
Hartleys Croc Adventure is a rejuvenated wetlands, a natural area for many species of wildlife to roam. It was not a zoo and whilst there are always ways to take advantage of the discerning tourist shopper like having your picture taken with a snake or baby croc, the animals themselves enjoy a vast area to live in. After this discovery, we headed to Thala Beach Resort where we saw lodges built into the rainforest overlooking the beach. It was here that I discovered a mocktail, a combination of mango juice, ginger beer and a splash of lime. I'm telling you to put this together with ice on a hot sunny day and let it transport you on the train ride to a taste heaven. Exhausted, we made our way back to the house for an early tea and a little rest. Cairns had been non stop and we felt it would be good to recharge! However, our hosts offered me a free ticket to a rugby league match in Cairns that evening. I would be going with a friend of a friend and her name was Norrell. The game itself was very one sided as the Queensland Cowboys beat the Titans 30-10 in front of 10,000 people! I drank my first XXXX beer since arriving in the north and I've got to say that whether you call it Castlemaine, 4X or anything it's the worst beer ever! One of our Western Australian friends told us that the only reason it's called XXXX is that Queenslanders can't spell beer! I'd say they can't brew it either, except I would take all this back if the amazing One Fifty Lashes was made here as that is the best beer I have ever tasted.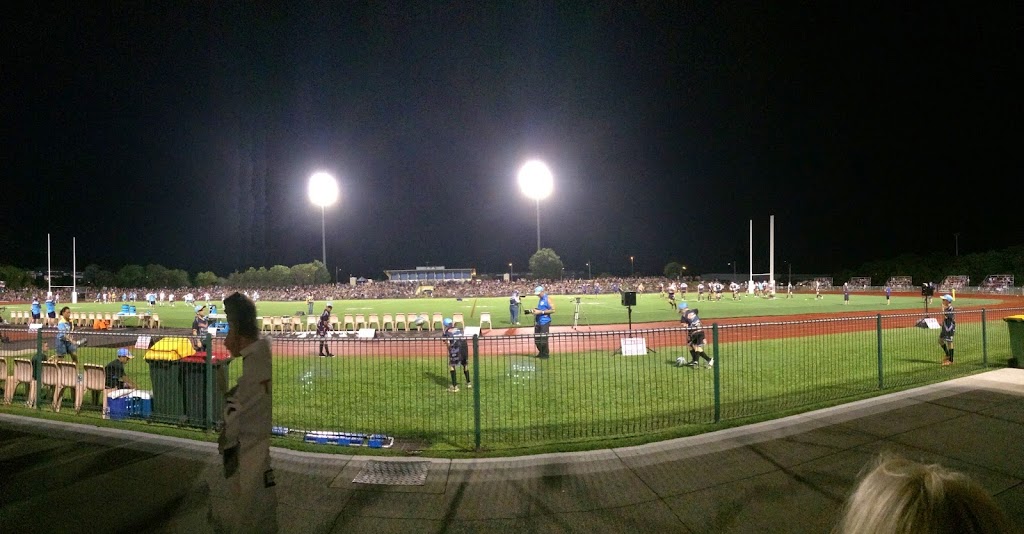 Rugby League in Australia.