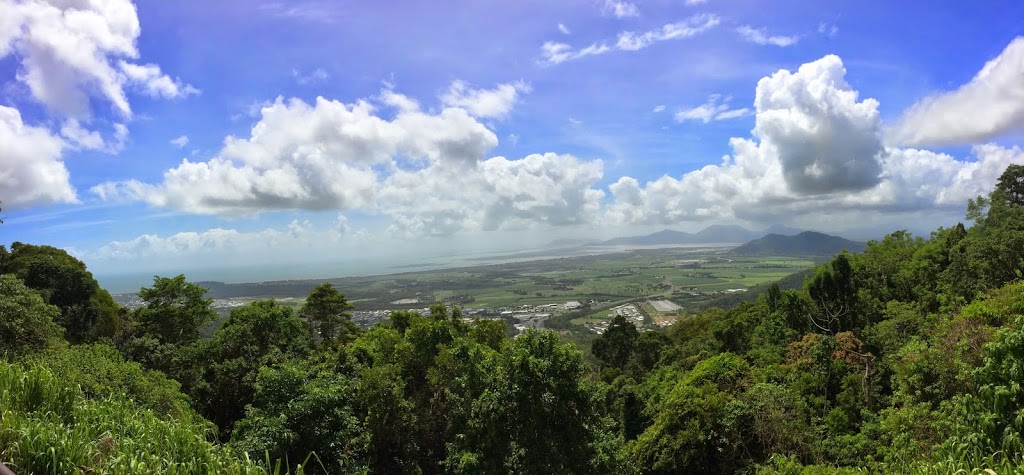 View from Kuranda over Cairns
Heading up to the Atherton Tablelands
So far, my efforts at saving Penelope Pitstop are more in keeping with Rod Hulls inability to control Emu on Parkinson all those years ago: pretty bloody useless.
Our trip today involved a long car drive and navigation sans Sat Nav. In any relationship this can cause problems between a man and a woman.
"It's no good pointing, you need to say left or right!"
"I pointed, and said left"
"No you didn't, you said right."
"I said left!"
"Well, I heard right."
Thankfully, Mrs Devitt and I rise above such silliness by just having a good swear at each other when we take a wrong turn and apportion heaps of blame on each other. And of course like all good rows (a 'blue' in Oz) someone breaks the ice that's formed and we go again.
As we share the driving and navigation, heading in the wrong direction and then admitting the mistake happens regularly… to both of us.
Today's route was fairly simple (Cairns is not a difficult read on the map) and took us into the mountains starting with Kuranda and a place called Barron Falls,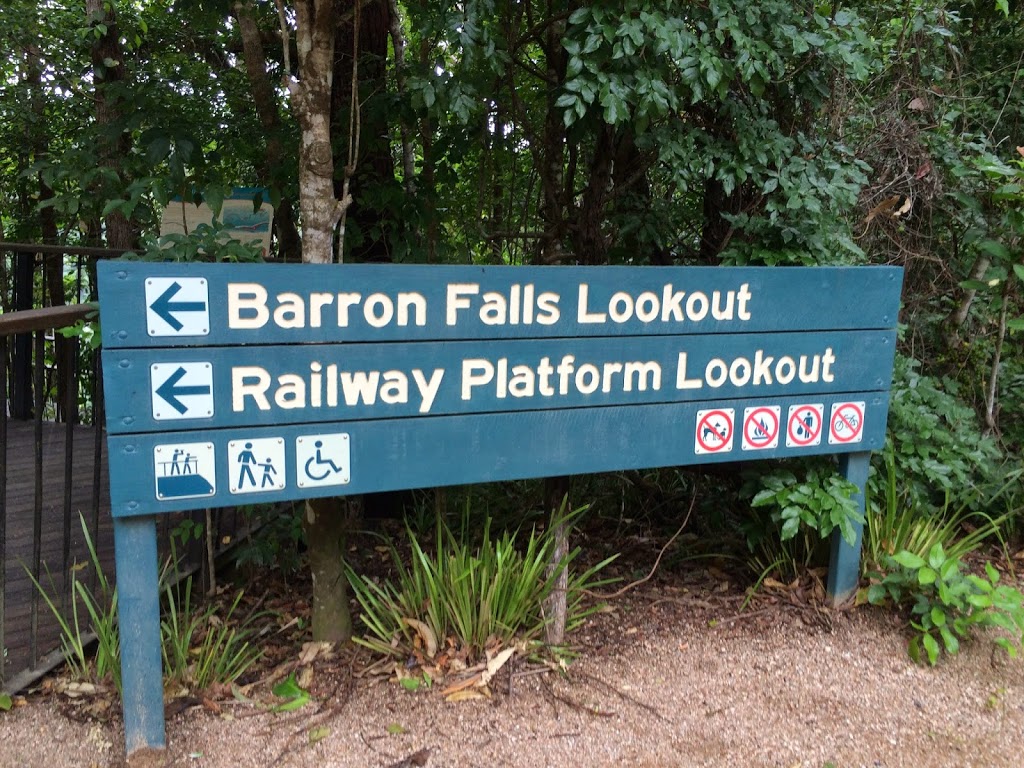 Them Barrons get everywhere
there is also somewhere called the Barron river and also the Barron gorge: there's bloody Barron's everywhere; they have taken over! The whole of the Barron empire is set in the tropical rainforest and this was the first time we had entered the mountains that when you look at them from the shore are covered from head to toe in green fauna. To enhance your enjoyment and so that you don't have to carve up the place with a machete, the Aussies have built boardwalks that meander around the trees and allow the tourist a great view of all the wildlife. The wildlife itself is way more sensible and keeps its distance from the throngs of Chinese being unloaded bus by bus into its territory. As we had not seen anything like this up close before, we stood in awe at what nature produces. We saw Tarzan style vines hanging just above our heads and the temptation to grab one and swing was quite high!
There are a few ways to reach Kuranda, if you take the Skyrail cable car or the train you can see these magnificent torrents of water cascade down the mountain.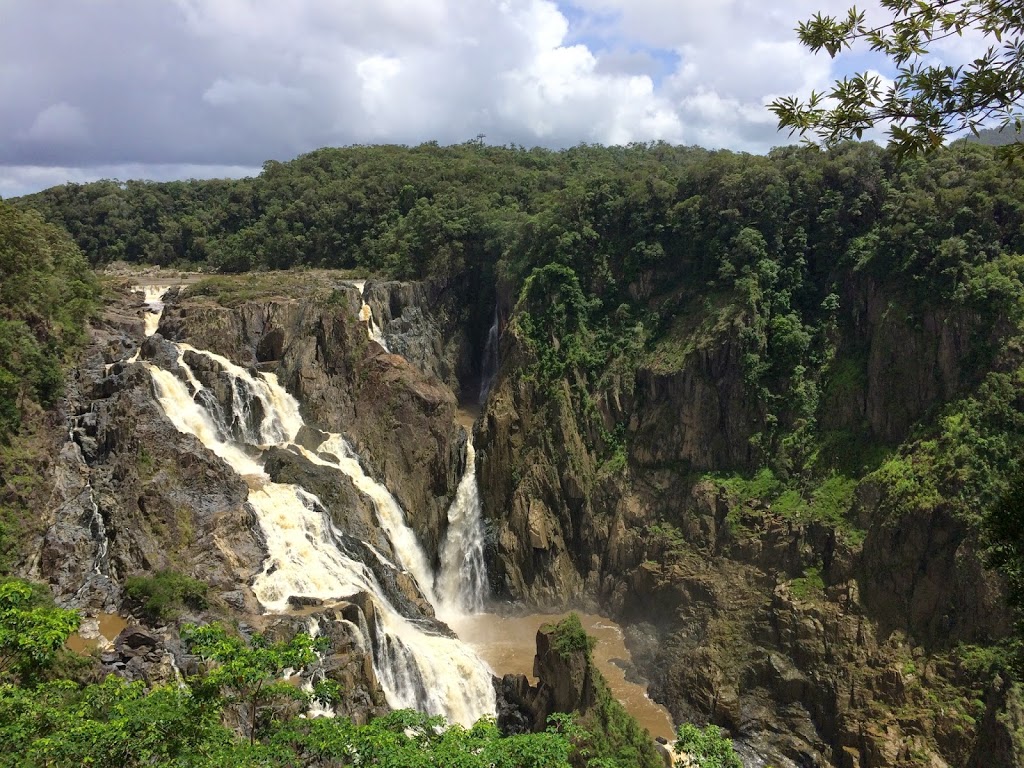 Barron Falls
Kuranda is set up for the tourists with a bird world, butterfly sanctuary, cafes and shopping. The Skyrail and train return is quite pricey but the TripAdvisor reviews are very complimentary so we assume it must be good although the 90 minute return train is not very popular.
After the falls our journey took us across country past Australia's coffee growing capital Mareeba , and a shop called the Peanut Place.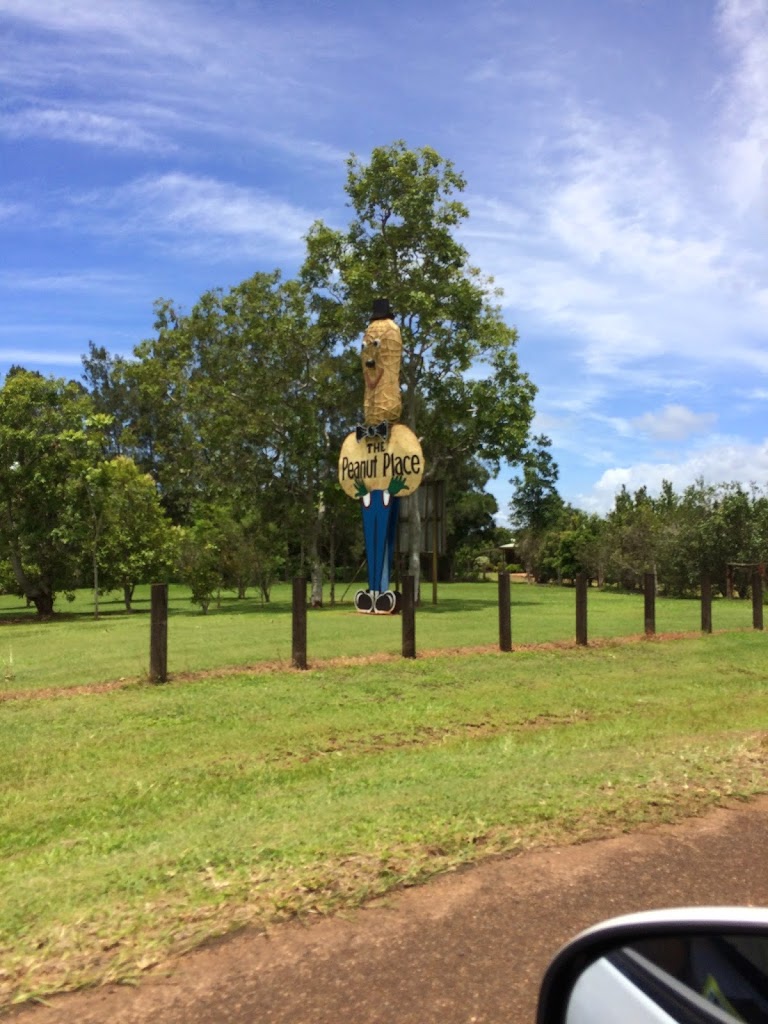 Peanuts!!!!
We drove past fields and fields and fields and fields of sugar cane, which must be the most grown crop in Queensland or I'm the Pope (now there's a thought) to our next stop, Hallorans Hill, in Atherton where we stopped for a picnic and saw yet another lovely view.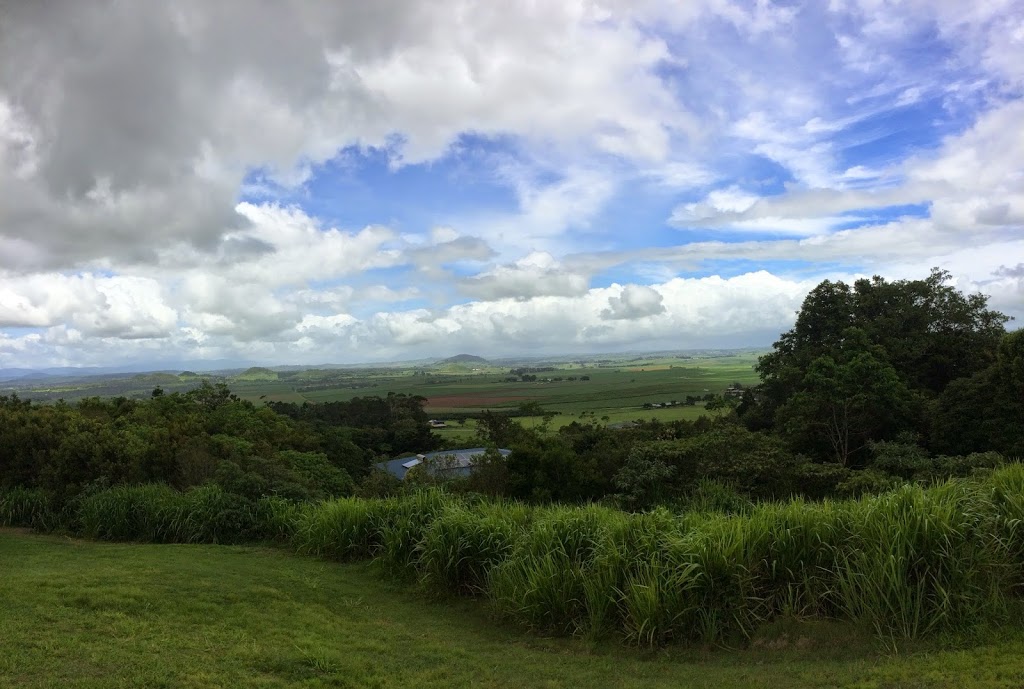 View from Hallorans Hill
This was more in keeping with what we were expecting in New Zealand though. The temperatures up here on this day were much cooler (only 21 degrees) and grey clouds were a companion along the way.
Mt Hypipamee was next, which is basically a hole in the earth's crust filled with water and continues for miles under ground! Legend says that this diatreme (volcanic pipe formed by gaseous explosion) is connected to some of the lakes in the area as an aborigine was lost here years ago and re-surfaced at Lake Eacham. It's not a place to practice diving and was very still and eerie.
Mt Hypipamee
We were now whistle stopping every spot as we were miles from home and not only running out of time (Michelle's favourite saying, she should have been Mrs Jack Bauer, I think) but daylight would catch us too. So Detective Hutch bounced onto the bonnet of Chuggaboom 5 and we set our clocks for Millaa Millaa which is a trio of waterfalls set in a circular drive over 10km. Go!!
Millaa Millaa falls was first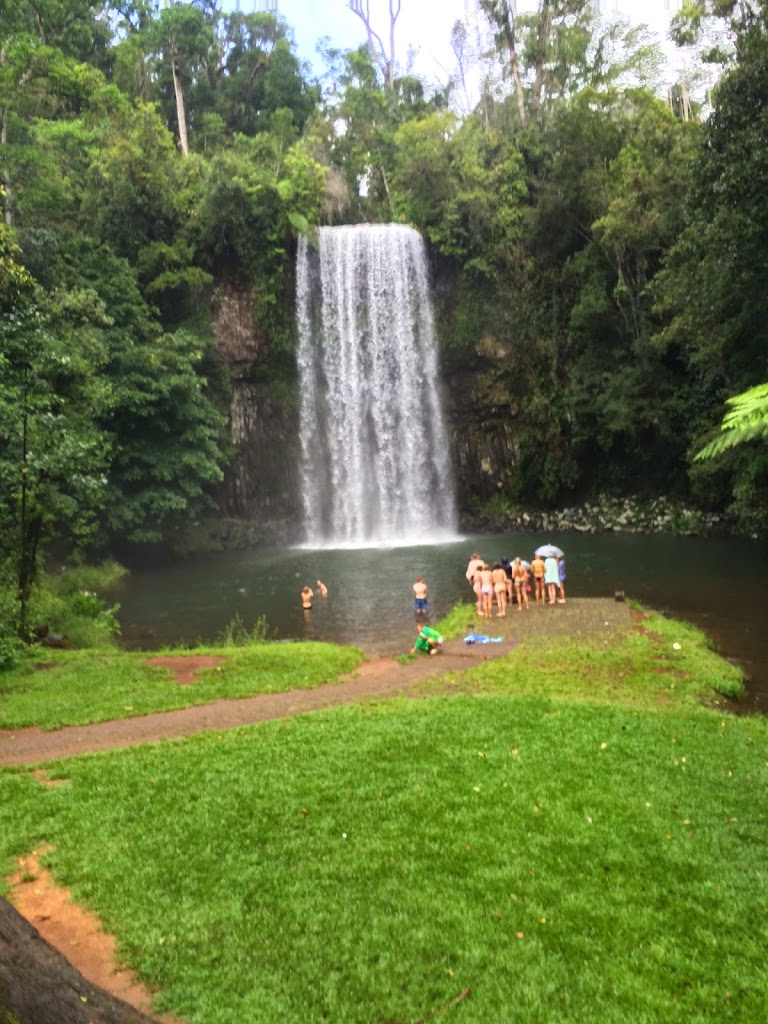 Millaa Millaa Falls
and we jumped out of the car and slid down the stairs like a polished bannister, took our shots and raced back to reach the next one, which was Zillie falls;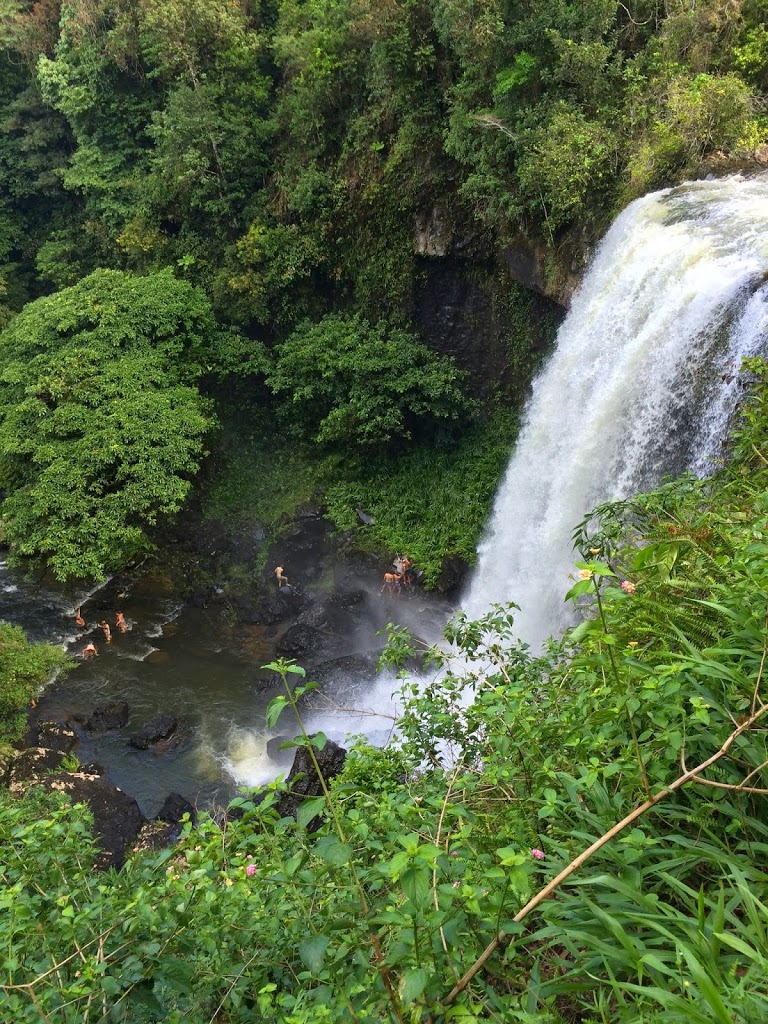 Zillie Falls
and then Elinjah falls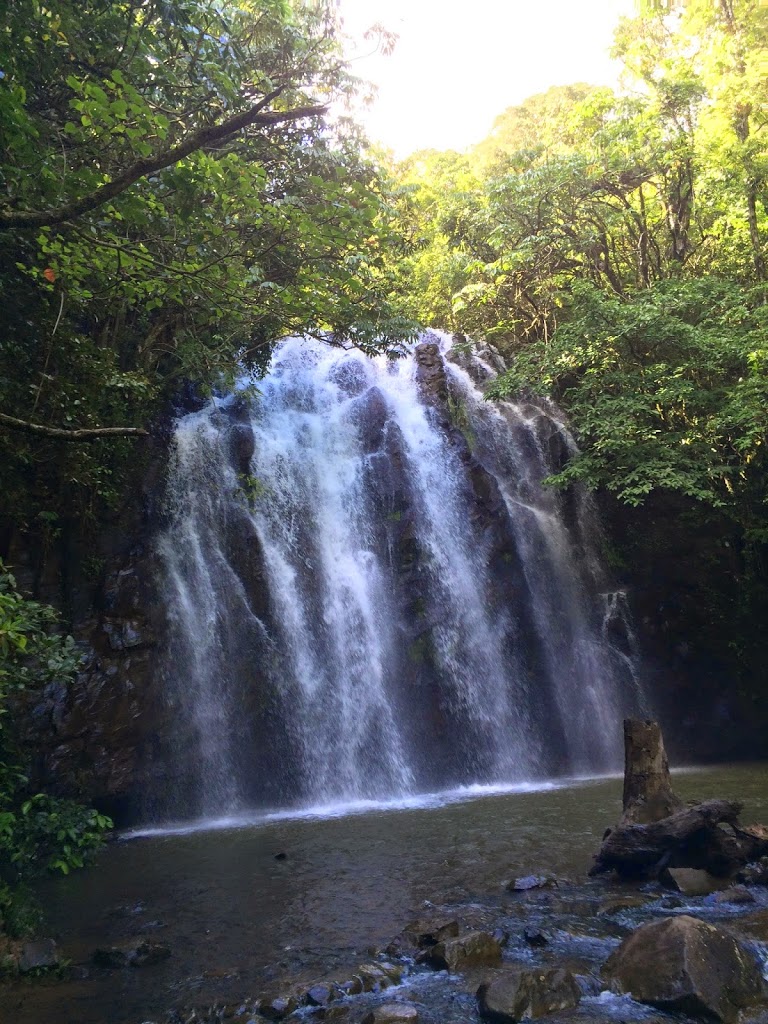 Elinjah Falls
all beautiful in their own right and completed in 15 mins!
Back to Chuggaboom and a race to Lake Eacham where we promised ourselves a swim (hoping not to see any floating aborigines). This was a freshwater crater and when we immersed ourselves in its cleansing waters, all troubles big and small just disappeared into the 65 metres below us.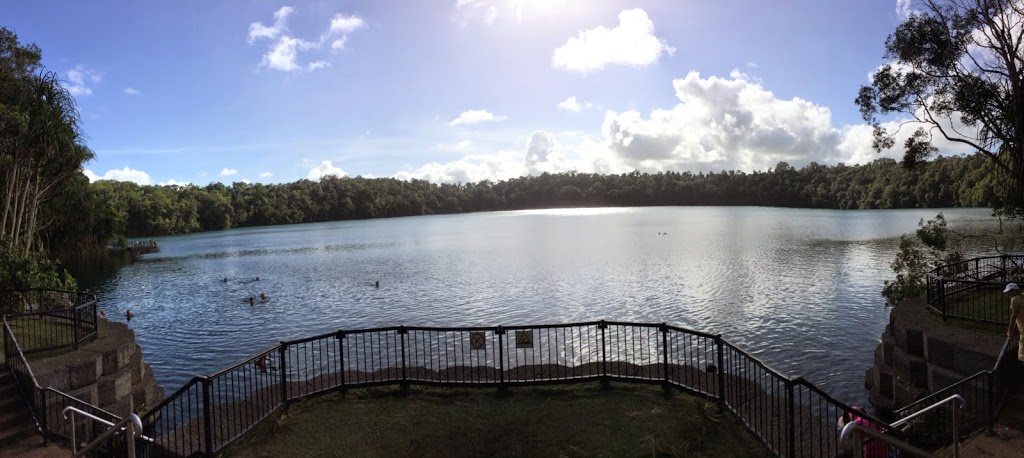 Lake Eacham
We swam and swam and without a doubt the best place to practice your breast stroke ever! Being an earwig, I then heard a guide tell his backpacking 20 year olds that recently a man rowed a boat to the middle at night and although the craft was found the next day, he wasn't. Divers attempted to find his body but  even with all the technology he could not be traced.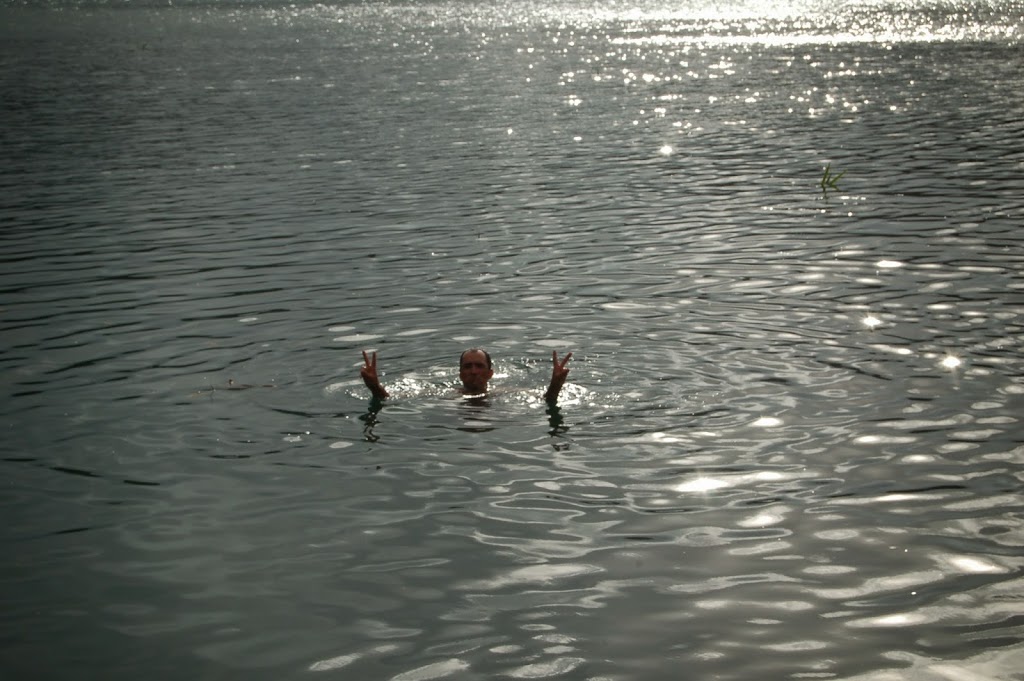 Johnny Weissmuller eat your heart out!
Light still fading, we changed and headed for Gallos Dairyland to eat an ice cream we had promised ourselves for hours and hours, passing the curtain fig tree first which was next on the agenda. This now began to feel like Treasure Hunt with Annika Rice jumping up and down saying "A clue, I've found a clue!"
Ice cream place was closed!
Sob.
But as the mossies, sand flies and human eating bugs stretched and came out looking for some Pommie blood (I could have told them to eat the cricketers who were being munched in Auckland by the Kiwis) we found ourselves under a dark overhanging tree that looked like a failed audition for Treebeard from Lord Of the Rings: it was huge but very unusual. We read that it was basically a number of trees melded together over many years but to me it looked a little like a tree with dreadlocks!
Curtain Fig Tree
We were almost done. The sun had now given up being patient with us and was leaving. In its place a dusk began to shroud our drive back to Kewarra Beach and Michelle drove the 190 bends, some switchback down the mountain. Is this a record?
Our hosts think they have a pair of loop fruits staying with them as we regaled them with our daily diaries, but we will keep going, uncovering all these people and places to bring this tail to anyone that is interested. If you are enjoying the blogs and think someone else will too please feel free to share the link.
I'm also happy to hear any comments you may have so long as they are not like Matthew Hayden's, Aussie Cricketeer, who, whilst being interviewed on a local radio station said that he was delighted that the Poms had taken a beating at the hands of the Kiwis. This, I didn't have a problem with. He then said that the Poms overreacted when they won the Ashes and were parading around on red double-decker buses (which didn't impress him)  and that now they are virtually out of the World Cup they can P##s off back to England in a red double decker! Not very classy Matthew, not classy at all!