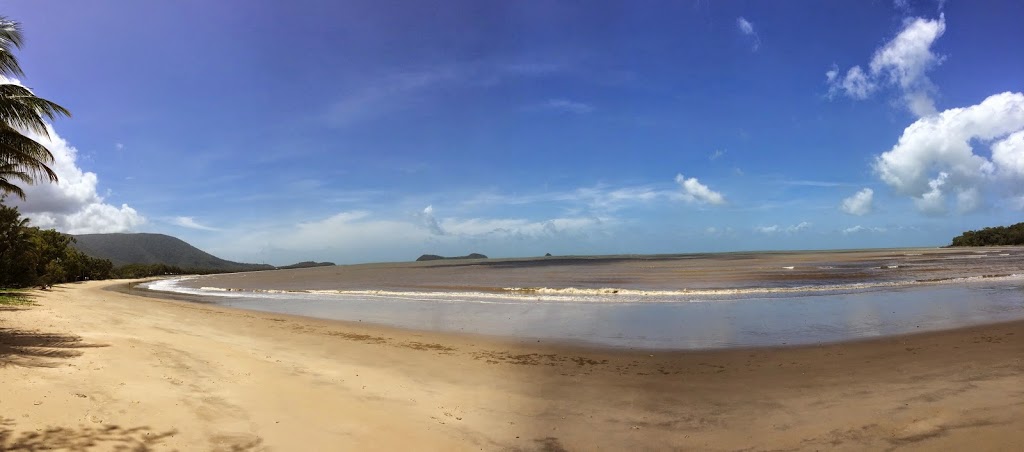 Kewarra Beach, Cairns
After wallowing like a sea lion on Coogee beach, our cares floating away with the Fremantle Doctor, (a sea breeze that arrives every day around midday) Michelle and I took the red eye (or midnight horror as it is known) to the northern territories. Every time anyone mentions going north in any country there is a certain amount of foreboding and uncertainty. This has been amplified by the book Game of Thrones when Jon Snow says in a deep withering tone, "I'm going north of the wall". Cue screams. Aaaaaaaaahhhhhhh!!!!
It didn't help that we were flying with Jetstar, south east Asia's equivalent of Easyjet. The flight we were due on left at 10.00 pm and was due to arrive in Cairns at 4.15 am. I prepared myself for a lost nights sleep as for some reason I've not been blessed with the ability to rest on any flight. The passage itself was a good one, the crying babies were down near the back (there's always one) and we landed on time and immediately noticed that it was raining. We had been warned. This is Cairns in its green season (as the bus driver informed us) which is the more tourist friendly term for torrential downpours albeit warm rain.
As we sat outside waiting for the bus admiring the mountains of forest either side of us, the sandfly welcomed us to their home with some very friendly bites. Our driver dropped us outside our second AirBnB home and we headed toward the front door. Our AirBnB owners were at work so we were left a note and we headed on inside. The place was incredible, an open plan living room and dining room with 2 places to watch the TV, a huge kitchen opening out onto a verandah. Outside there was a swimming pool all overlooked by tropical rainforest.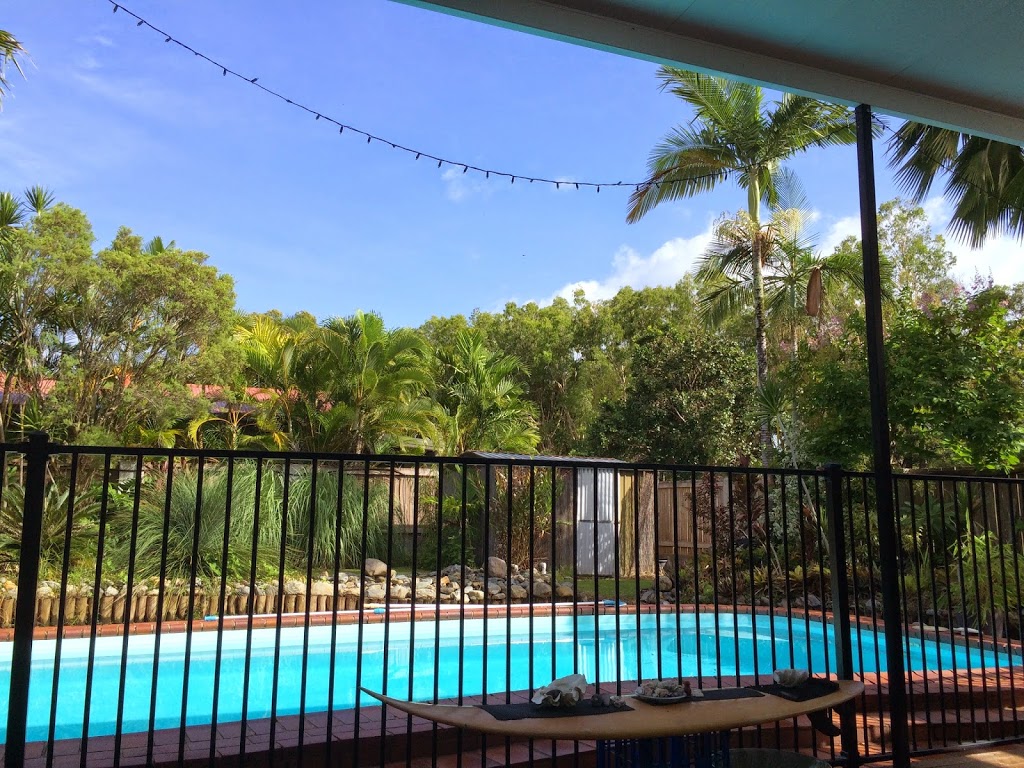 Paradise Found
At this time of the morning and without any sleep it truly was a shock to the system. The noise of nature outside was one welcome, the variety of colours washed by the early morning rain was another. We headed to the bedroom and collapsed for a couple of hours. When we woke in a rain-free Cairns, we decided to head for the beach which was only a couple of minutes walk away. As we brushed underneath the palm trees we were met with an amazing sight. A vista so breathtaking we nearly fell over. This is the land where sea meets the rainforest.
River meets Sea – Watch out for the Crocs and Stingers!
Timber!!!
However, we soon discovered that paradise is not all it seems and it was here that we really learned some things that we didn't know about Cairns.
The first couple that we met were locals and had moved to the seafront part of Cairns only in the last couple of years. Before that, they had lived in the rainforest. They told us a number of things; the water is currently a no swim zone because of the poisonous jellyfish and the creeks are full of crocs and we should not head anywhere near the edges.
There be Crocs in there! Gaaar!
 We stood there looking up and down the beach wondering which areas were safe.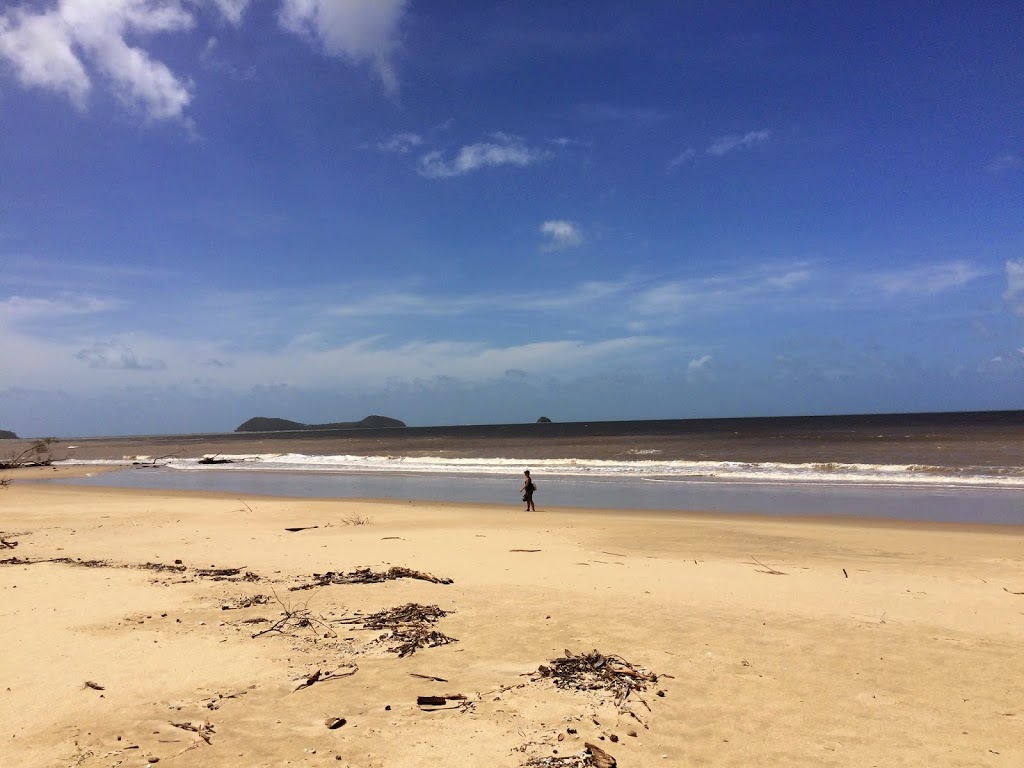 Where shall I put my towel?
Could we even walk on it without a Tyrannosaurus Rex popping up from behind the trees and eating us? In Perth, it was the sharks and snakes. Here, it was an episode of 'I'm a celebrity get me out of here'. We thought that Jeremy Beadle was going to pop out any minute and say that we were 'Game for a Laugh'. The couple ambled up the beach with their hound and our nerves and we then bumped into Barry, another aussie local, who told us that a croc caught a dog that had drunk from the creek recently. He then said that a cyclone was heading our way and should be with us by Thursday not to mention the torrential rain, 36 inches they had so far in February causing widespread damage.
A tree with its trousers down.
We strolled back to the house, glancing through the trees at a place we had only seen on postcards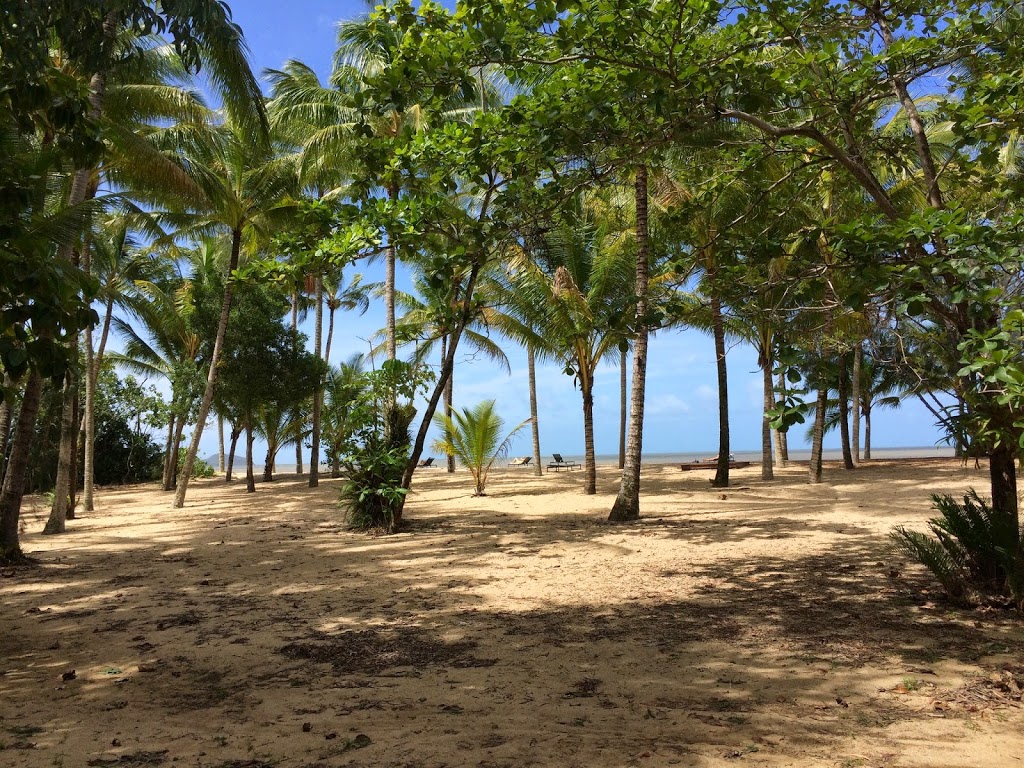 and not a German tourist in sight!
and went to pick up Chuggaboom 5. Our driver told us that the worlds second deadliest snake could be found in all the sugar cane that is farmed in the Queensland area and the hundreds of bats that we saw hovering over our heads where he picked us up were all diseased ridden pests that are the cause of a local disease passed from dogs to humans. "Nasty one to die from" he said, in that lovely soft accent they have.He also revealed that bats are in fact responsible for Ebola and that they are no good to anyone….hmmm.
This has called for me to change my name by deed poll. Ladies and Gentlemen, from here on in, I shall be known as Michael J "crocodile" Dundee Devitt. I have so far braved all predators, and on Thursday this week, will be swimming on the Great Barrier Reef. There is no stopping me. I am Michelle's protector and if any varmint tries to have a piece of her they will have to deal with me first.
After meeting our lovely hosts, Leigh and Yossi, our dreams that night were full of bugs and creatures of the night but I swashbuckled through all of it, undeterred, all man, and by the morning I woke and declared that the UK wasn't so bad at all and I even quite liked the winter!
Stay tuned for our visit to the Tablelands and the best swim ever in a crater!
Mick Dundee Devitt