Our back garden
There is so much to tell you about Cairns!
Up with the parrots this morning, packed lunch in the boot, and with travelling hangovers beginning to furrow our brows we headed in the opposite direction to our previous day. We were heading north this time, a coastal drive to Mossman Gorge where we were greeted with all the clammy stickiness that the combination of sun and rainforest can muster. A bus drove us to the pretty gorge and as we were taking some selfies a coach load of Chinese tourists turned up with their cameras and a determination to squash anything in their way and we were soon squeezed out of the general throng so that they could push each other instead of us.
Undeterred, we cooled off in the waters running down the gorge and then headed across the bridge where I'm sure they film the exit from the jungle in that ITV program that was once won by Tony Blackburn.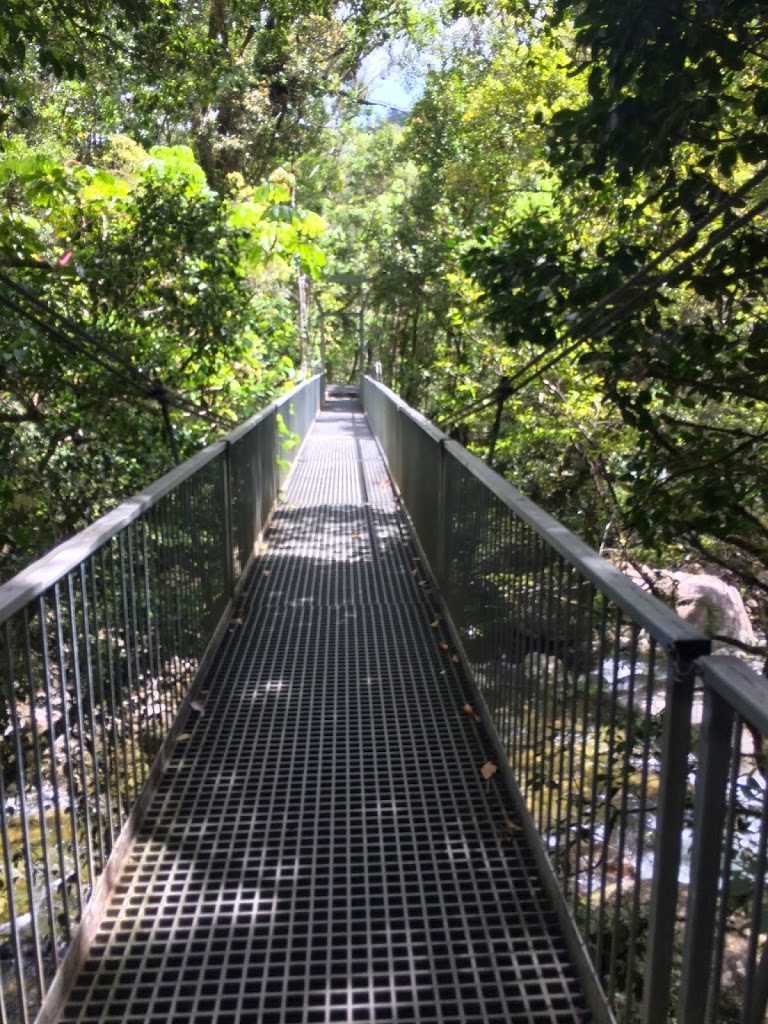 Eviction time!
From Mossman, we headed further north toward one of the most ancient tropical rainforests in the world, Daintree Rainforest: one that survived the ice age.
We wanted to take a Croc Cruise first though (to prove my previously unseen croc death roll skills) as so far on our Aussie trip our sightseeing had been devoid of Crocs, Roos, Wallabies and Koalas: it was time to tick one off the list.
It was closed.
Undaunted, we headed for Daintree Village to regroup and check our itinerary. Tourist Information helped us with a few choice picks across the river at Cape Tribulation. We drove onto the ferry and within 5 minutes had crossed into a new denser land. A forest set apart from its meager cousin just the other side of the water. The trees were taller, the palms were wilder and the road that cut through it seemed to be groaning under the strain of the indomitable old man squeezing either side. This was a land of fairy tales and creatures uncatalogued. This was Cape Tribulation, this was unbelievable.
The Jindalba Boardwalk provided a footpath through the immensely verdant landscape allowing us to appreciate the sheer size of the place and everything that lived there.
It was here we saw a Lizard.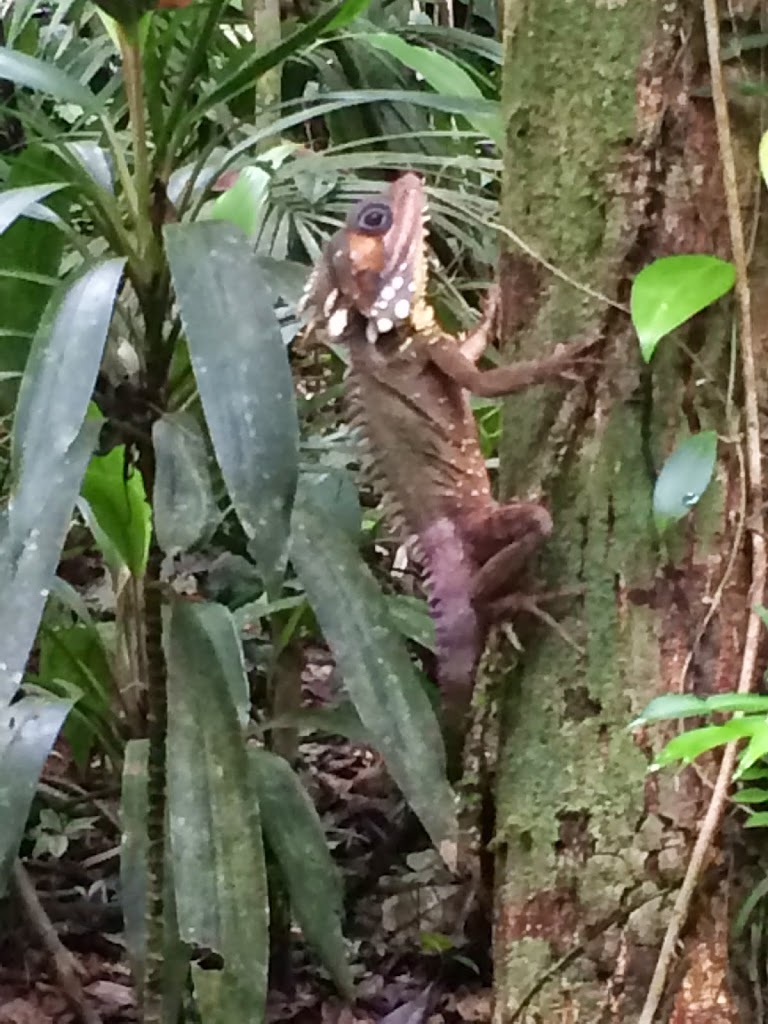 Daintree Rainforest Facts
Apparently, 12 of the 19 species of plant life that have been discovered here are the source of all nutrients (including medicinal) known to sustain life for the human species. Try to imagine the ice age and anything surviving. This rainforest did and now in this clammy climate, it thrives and matures. It is a vintage wine uncorked, a place constantly regrowing as each cyclone sets out to ruin it. It is granite in a hurricane. It yawns in the face of such winds, allows some of its trees to fall and grows others in its place. I've never been to the Amazon so I cannot compare, but here in Queensland Australia an extraordinary place exists. If it's not a seven wonder, it's in the top 50!
So how do you top that?
Simples.
Ice Cream!
The Daintree Ice cream company is a must visit this side of the water. A tree lined entrance introduces you to all the different types of fruit that are grown here. Each tree has the name of the fruit growing in front of it and all of them are different. We also saw a plantation of bananas which a devilishly handsome man showed us.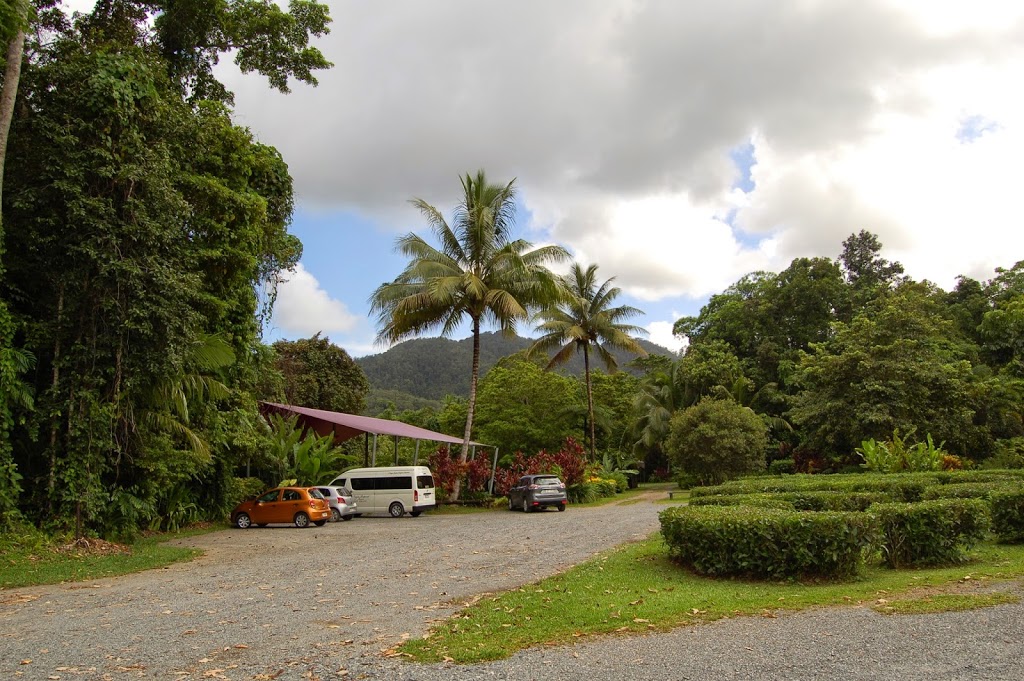 All the Ice cream is under the canopy.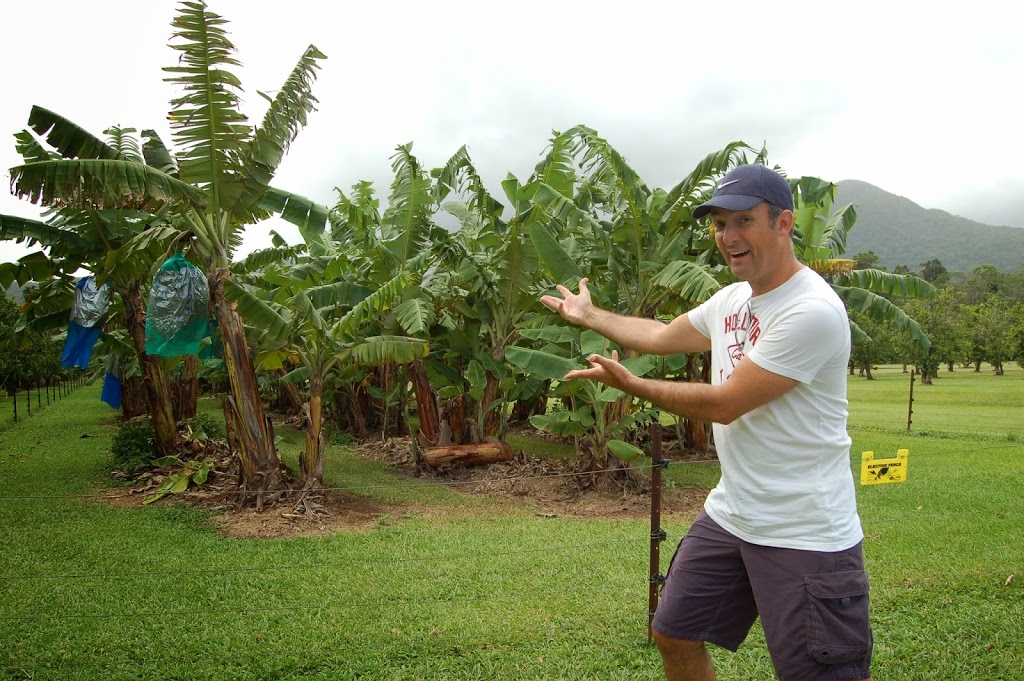 Completely Nanas!
Michelle stood underneath a Mango tree and we also saw our very first Breadfruit tree made famous by the film Mutiny on the Bounty.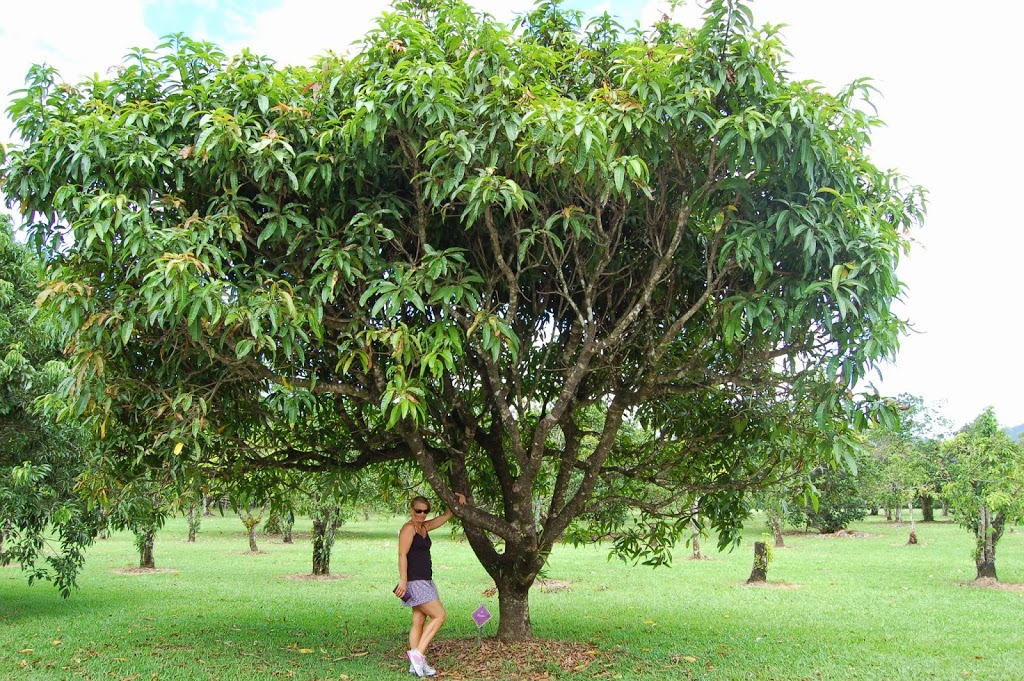 Mind your head!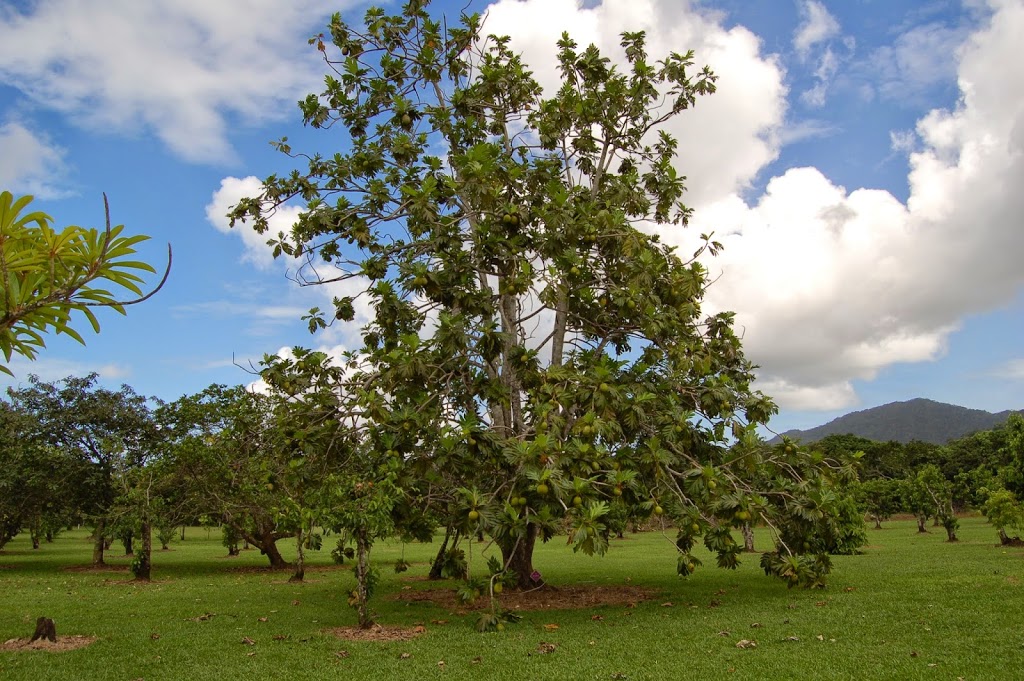 The famous Breadfruit Tree
In the shop itself they serve different 4 scoops each day and we were treated to Raspberry, Macadamia, Passion Fruit and Wattle Seed. Yes, Wattle seed. No, I've never heard of it either. On request they also do other flavours but all of the products are made with fresh fruit grown on the plantation and for 6 AUD it is a treat for your belly!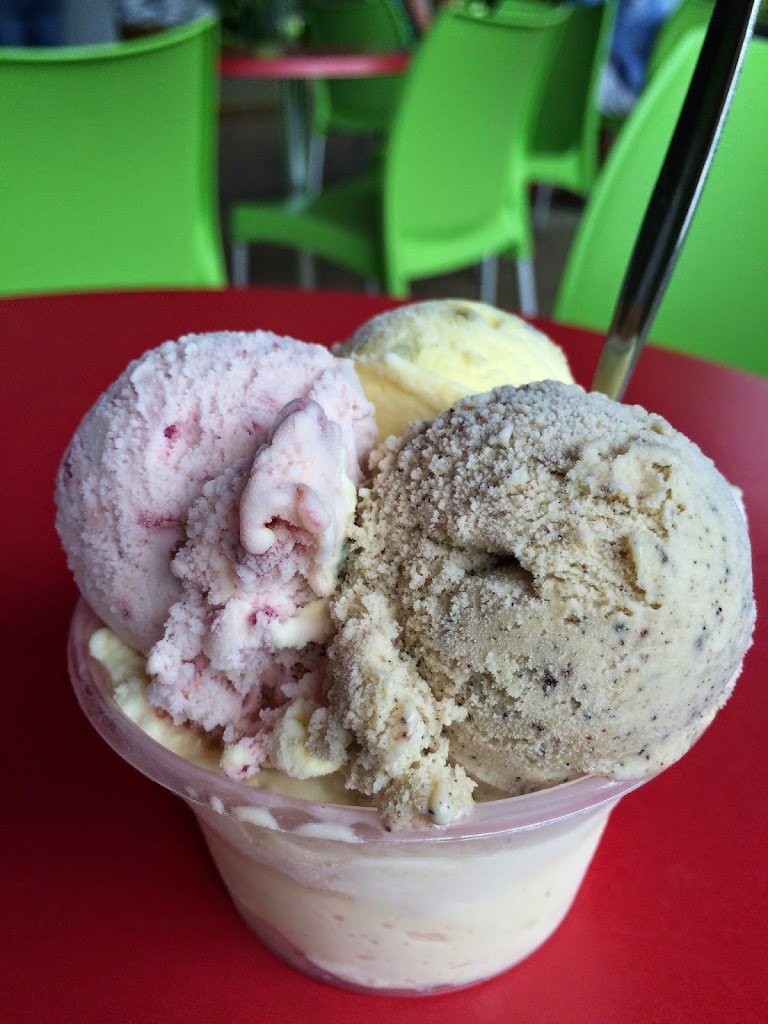 The Wattle Seed is on the right!
On the wall next to the cashiers' till there was a map. It was unique as it showed Australia in the centre of the world. I liked the new perspective seeing how vast the Pacific Ocean is between the North easterly tip past Hawaii to one of our favourite places in the world, Laguna Beach, LA.
Michelle used it to show the distances between us and Sam and then Taz.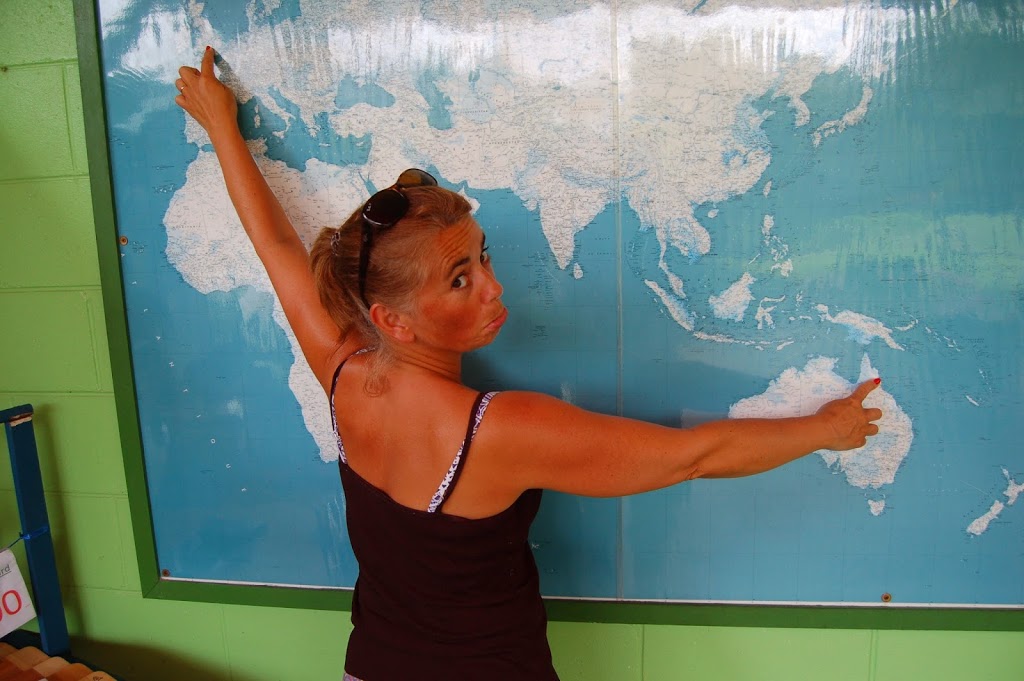 Distance to Sam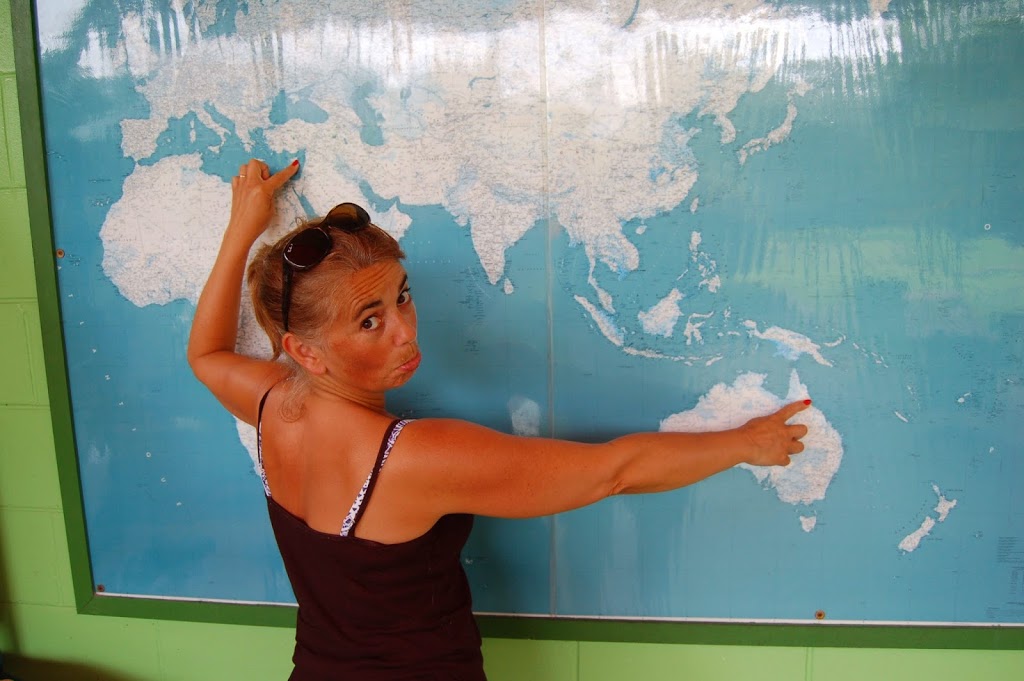 Distance to Tazzie Boy!
That thing called time began to sound its bell again and we still hadn't made the furthest point on the map. It was a good drive to the end; the road in places narrow and stained from the rainforest. Finally, we parked Chuggaboom 5 and saw yet another incredible sight. Somewhere in the back of my mind, an old Burt Lancaster film surfaced as we stared across the beach. It's the cover where him and his leading lady are being washed by the sea as they lie in each other's arms.
Michelle then decided to set off her internal Croc alarm as we took the 'deliverance' style Kulki Boardwalk to see the next view. She needn't have worried, she was with Mick Dundee and I used my mind trick to ward away the evil beasts as we crossed bridges with half dried mouldy creeks strewn with Dragonflies sitting still underneath.
We didn't think we could do this in a day and as we headed back across on the ferry we knew our steps into Jurassic Park had been special.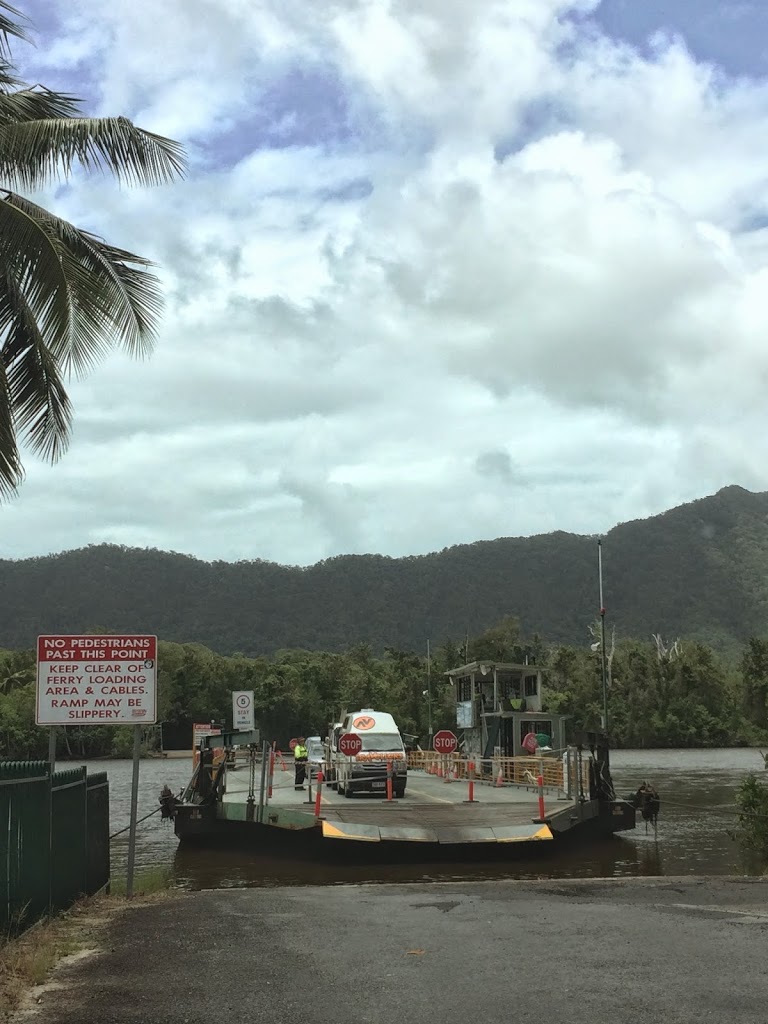 Like the Chain Ferry in Poole!
It revealed to me how clever we are as a species to have evolved beyond this point. For all of the thousands of people (like me) that live normal lives in cities, there are the explorers still tapping resources here. This is our heritage and for all the misplaced notion that Australia was in its history a dumping ground for prisoners, it is not that at all. This country contains all our roots for all mankind and if that's not a wow moment, I don't know what is?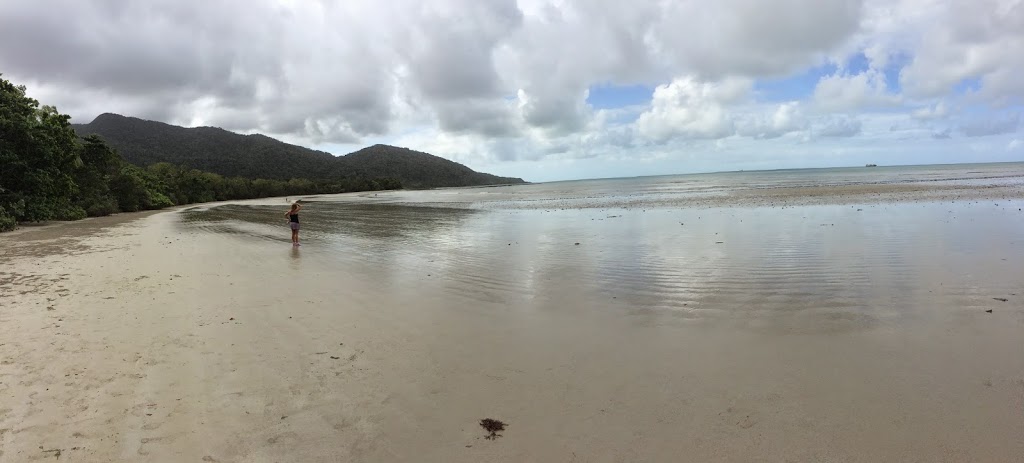 Cape Tribulation