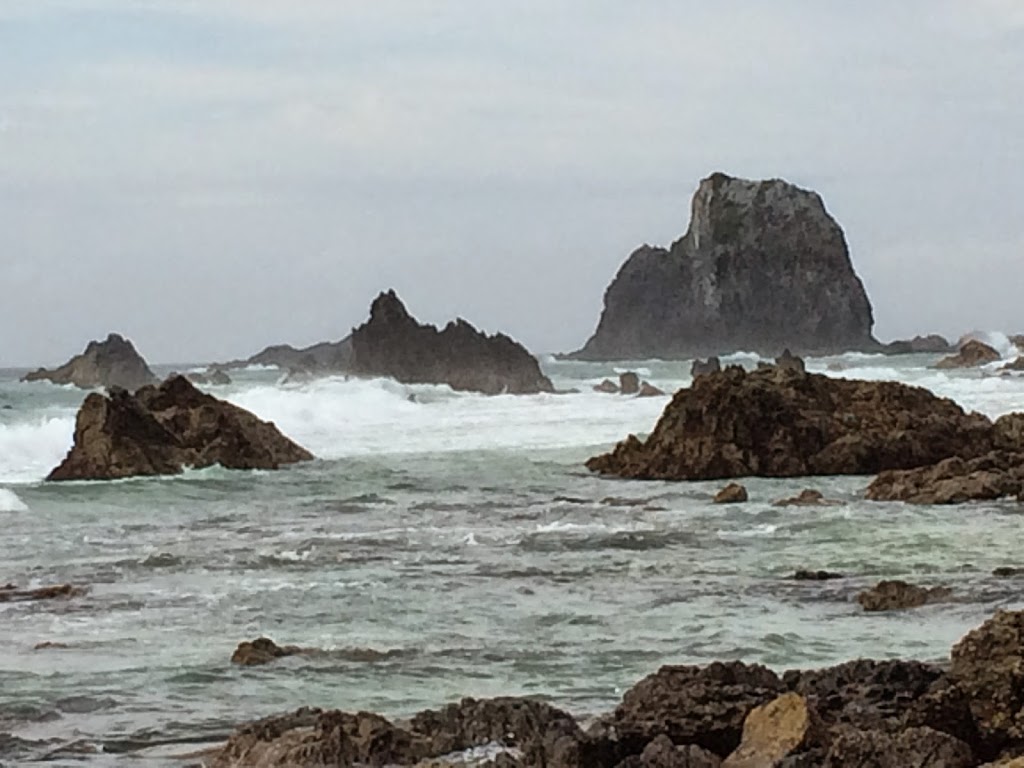 Glasshouse Rocks being battered by the Pacific
The soul is a strange thing, an invisible gauge of how we feel. If it becomes dis at eased then we are vulnerable to all the strange inner toxicity that can squeeze our very being. Many people see the sun as the antidote to a soul that is under attack by work life, home life or both. I would say that if you add the happy cries of children coupled with activity on a beach on a lovely day, then your chances of cleansing your damaged spirit improve.
When Sam was 6, I practically forced him to play football. As a parent I wanted him to have a sport in his life as I believed in a fit body, fit mind. I realise now that this supposed maxim is actually too much of a generalisation. There are many fit but unhappy people, because the need to keep the body looking magnificent becomes a pressure in itself: the never ending quest for perfection. Just like football went from fun to winning at all costs.
In Narooma today we wanted to see the Glasshouse Rocks but when we arrived there was a huge amount of fun and games on the beach with the adults teaching the children to have fun with relay races, surfing in the small waves, learning how to paddle on boats and being chased by the sea.
Narooma Beach
Following a scrumptious beach-side breakfast at the cafe, we sat and listened to the uncomplicated joy in their young voices and wished we had been cleverer with our choices for Sam. This was something that he would have loved at that age and maybe would have suited him more. Of course, in England, all of these types of enjoyment are weather dependent and quite often all we had to resort to for toddler entertainment was a place with coloured balls and large amounts of screaming.
The seemingly perpetual summer must aid parents in these choices producing the laid back Aussie surfer dude and dudesses. The ladies here are all invested in the same interests as the men. There is an overall fitter mentality that doesn't just come from exercise and diet, it is in their attitude to people in general. They don't hold world weary expressions, perhaps because this is a younger country still establishing itself or maybe the sheer remoteness and vastness of the land alongside all the wildlife dangers creates the community.
On our itinerary today was a trip to see the surfing kangaroos. Now for those of you expecting to see Skippy balancing on a surf board in a tube then you're in for a disappointment. However, for the more regular reader of the blogs who have been waiting for their portion of wild kangaroo, I will serve this to you now.
We turned right off the Princes Highway onto a road called Mt Agony. At the end of this covered tree lined avenue was a car park and just through a gap in the bushes was an opening onto a boardwalk to the beach. It was here, only about 200 yards away that we spotted about 20 Roos eating grass beside the beach. They were smaller than the ones we had seen at Hartleys Croc adventures which were very docile and we think their wilder cousins may have allowed us to pat them, but for some reason Mick Dundee had taken the day off and we both decided that wild means unpredictable and we should keep a respectful distance.
Yes?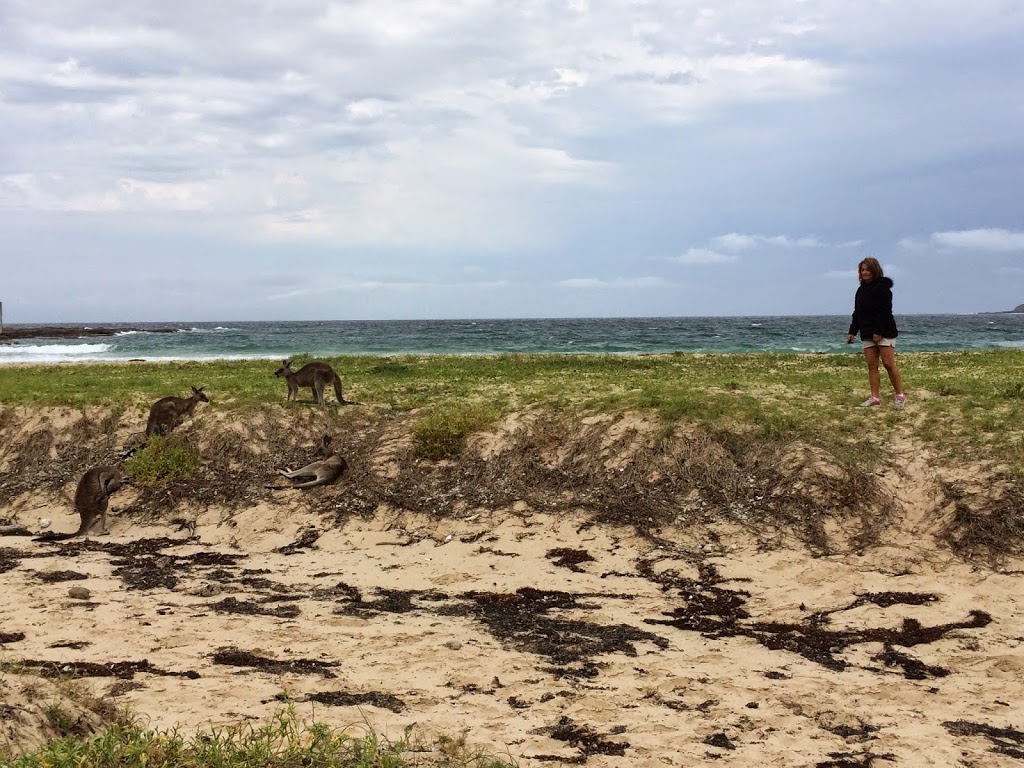 And that's just about close enough Missy!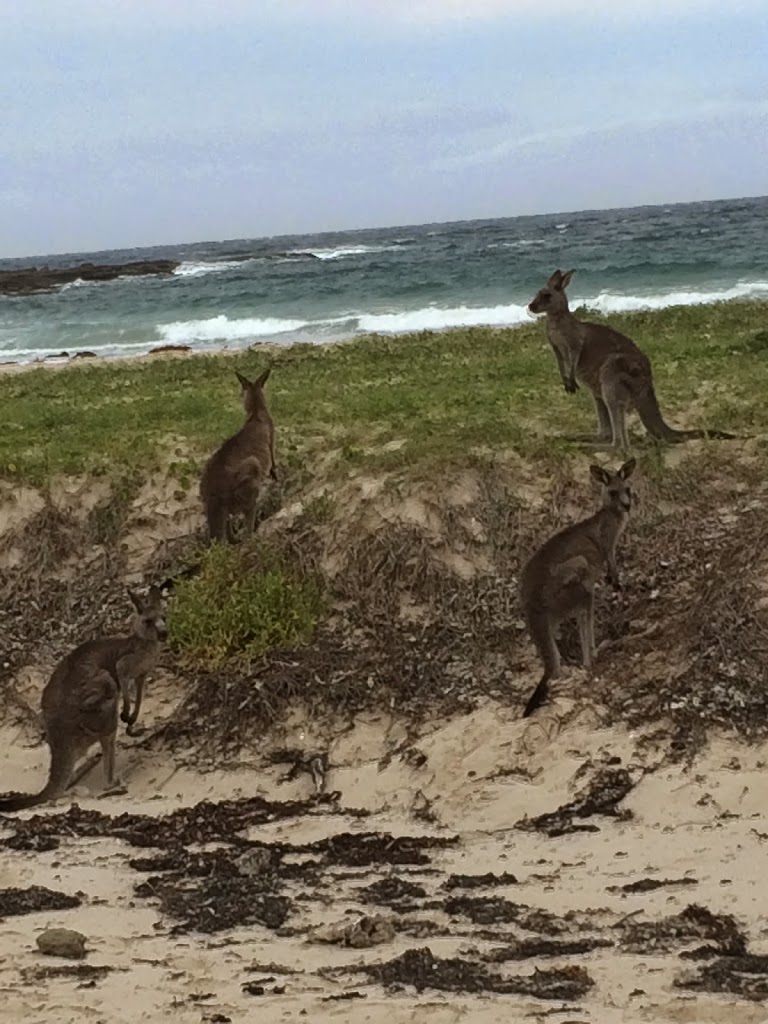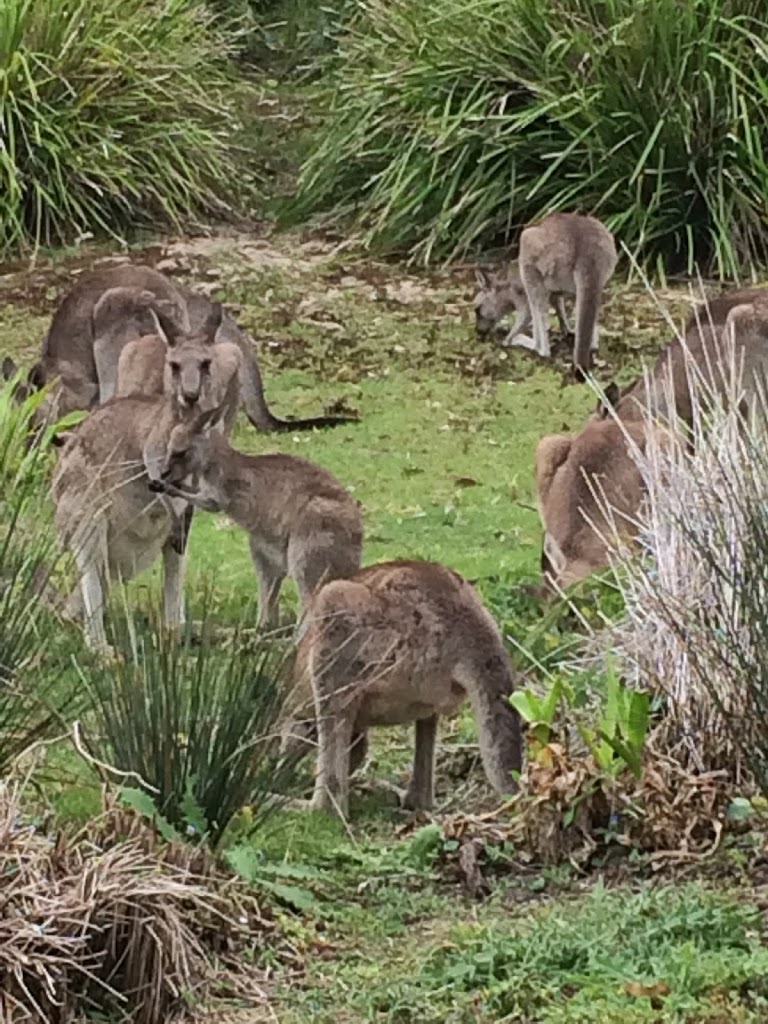 It was great to watch them preening, scratching, eating and bouncing from place to place: another highlight to remember on this amazing tour.
Now, the person I'm going to tell you about next is Andrew. At 15.45 I did not know who Andrew was and that he existed. By 16.15, I was practically family. Andrew ran Dolphin Shores Motel, Vincentia and he had a presentation for all his guests. This consisted of mocking (once he knew where you were from), facts about the area including side bars about his families' background, where to eat, how to drive, oh you name it and Andrew had it covered. Now I'm sure that some people would find him incredibly annoying but he made me laugh. He was quick witted calling Michelle, 'little Blenheim' after the name of his favourite 'beautiful' beach and when I asked him for the wireless password he looked around the office, opened up a book, sat back down, opened up another book and just in case anyone might want to break in to his precious high security motel network, wrote it down very carefully on a stickie handing it to me surreptitiously so that the 95 year old man standing next to me couldn't see it.
The password was 'penguinsarecute' and I was soon connected!
Jervis Bay itself was a little cloudy and we decided to wait until the morning before going to Hyams beach, Andrew claimed (and the Guiness Book of Records confirmed) was the beach with the whitest sand in the world. That's on top of having the place with the most amount of interesting things per 6 mile radius ….. IN THE WORLD. I shall never forget my check-in with Andrew and if you want to try and imagine who he looks like, google 'John Colicos' ; he played Baltar in the 1970's series Battlestar Galactica.
That night, we ate at an 'Andrew recommended restaurant' (we were dead if we didn't) in Huskisson just up the road. The pub was called 'The Husky' and a little further on was a local cinema which we thought was very cute!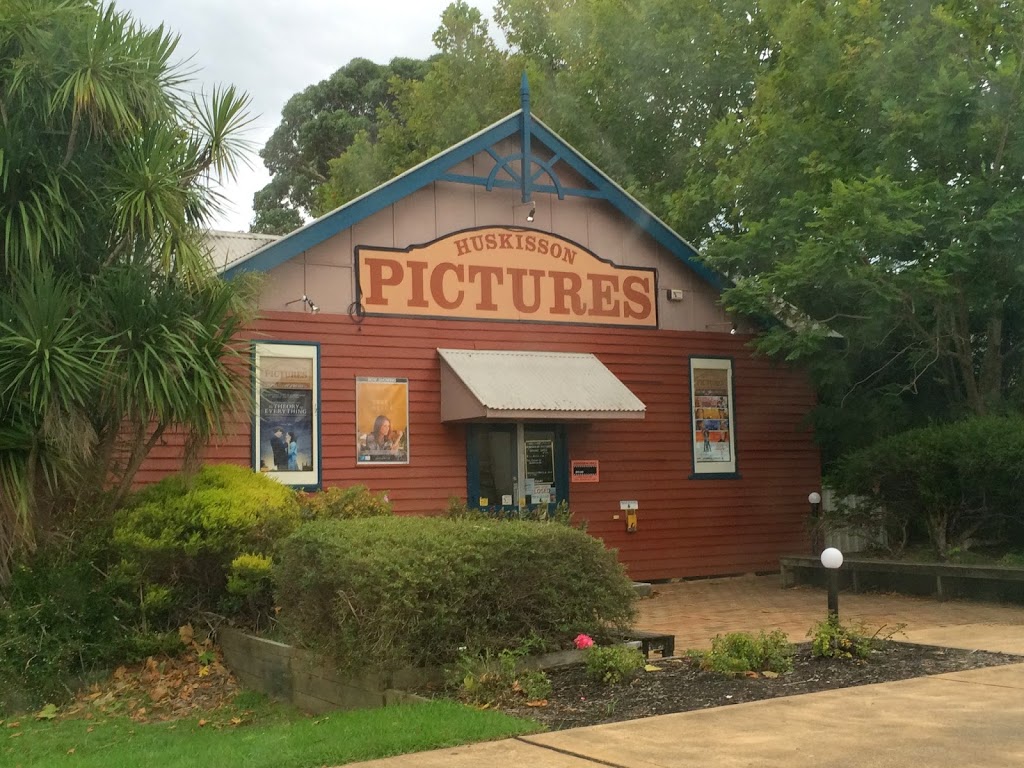 We prayed for sunshine as we slept that night. Tomorrow was a beach day and Hyams beach was our destination. Tsk, the sacrifices we have had to make!