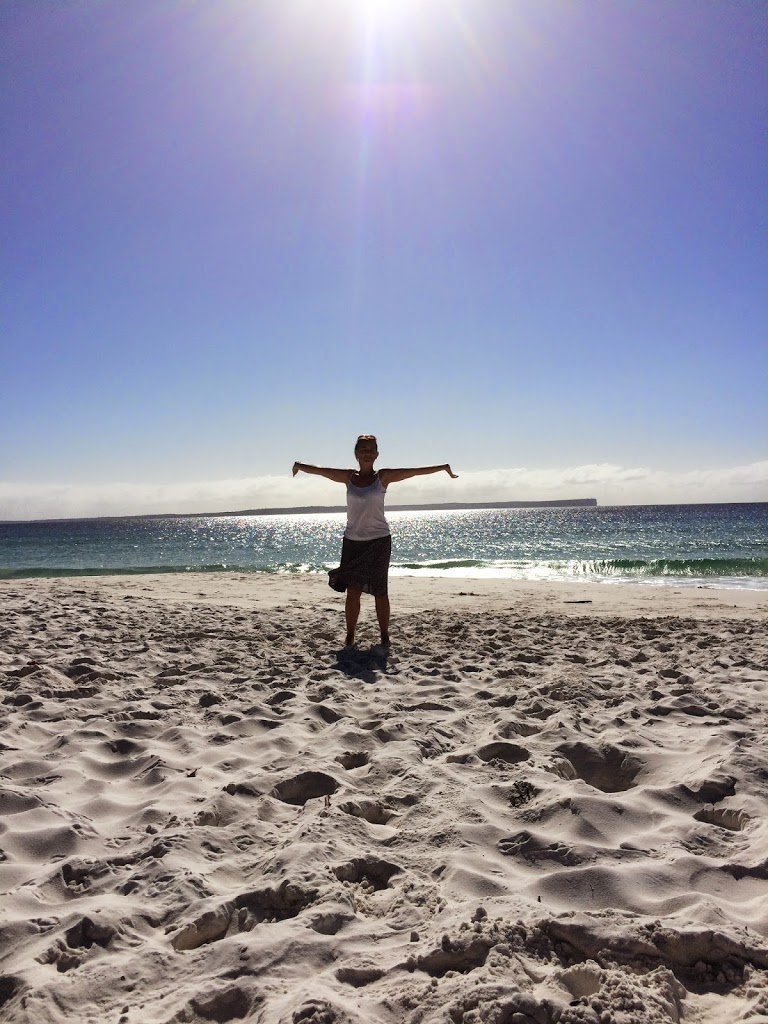 The Great Ocean Drive – Jervis Bay to Sydney
Anticipation
All night I tossed and turned. Usually, my dreams are pretty basic. They either involve leading Chelsea out to play the FA Cup final or perhaps the start of an old sailing race. My nightmares always involve my old places of work; but this evening as I twisted and turned all I could think of was just how white the sand would be. Would it be the colour of the clouds? I mean, how white can you get and how do you measure whiteness? I mean there's no Daz adverts on the TV showing us the 'before' and 'after' anymore is there? Whatever happened to those?
Nothing like a recommendation
Andrew, who ran the Motel met Michelle at dawn – facts at the ready – and informed her of the best place to have breakfast at Hyams Beach. Quite possibly this could be the best coffee house (just a few steps away from the beach)… in the world, but don't quote him on that! Well, what I can tell you is that the breakfast was great leaving us time to dust ourselves down, take a few deep breaths and make ready for the sand that could blind a man! We parked. I could see glimpses of beach like someone had set twenty flares off simultaneously in daylight. Armed with a towel under each arm and our usual quotient of water we strode onto the sand.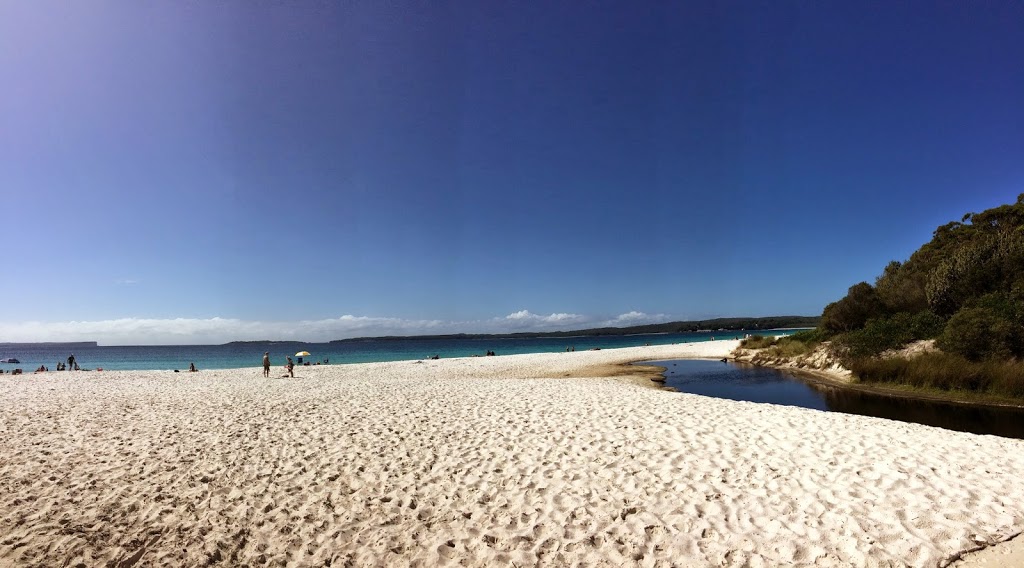 Blinding Sand
Even with my sunglasses on the reflection of the sun on its surface made me squint. Note to self, write to Ray Ban, 'your bins are crap!' Now, as far as smiles go, on a scale of 1 to 10, Michelle had an 11 going on. Her perfect combination, the sun and the sand! What's that you say? Me? Oh yes, and of course the real light in her life, sometimes.
True Happiness
I can tell you that not even the sight of twenty crocodiles crawling up the beach was going to shift Michelle. This was her beach now. If the gold rush still existed she would be staking her claim. Sadly we only had time for a couple of hours there, our next stop was due to be only just over 100km away in a little place called Sydney. We did plan to go via Wollongong and its bridge but after driving around the city-centre twice and still not being able to locate the right road we reluctantly called it a loss and made our way further north but still managing a part of the Grand Pacific Drive, taking in our second blow hole in Kiama with a light house warning the shipping and seeing the magnificent view from Gerroa.
 Australia has too many gems in its hold and our friend Andrew in Jervis Bay knew it. We may have some amazing sites in the UK but what the English love most of all is the sight of long stretches of quiet beach, aqua green water all under a 25 degree Celsius sun.
The Great Ocean Drive – The Road to Sydney
The road into the real capital of Australia is a deceptive one and if I thought Melbourne was complicated and busy, er, Sydney was twice as difficult. We needed to make our way to the other side as we were staying in a place called Manly north of the city. After skirting by the airport we soon took the tunnel under the famous harbour bridge and opera house. Note the requirement for paying tolls which can be taken care of easily online. The traffic was London heavy and it felt like we were never going to arrive at our next AirBnB. Another wrong turn saw Michelle's co-pilot sacked (again) and eventually an hour after we hit the outskirts and with a only a few miles to go we arrived at our destination.The only solution to the levels of traffic stress we felt was to sink a couple of pints of One Fifty Lashes. This we did at the Manly wharf bar accompanied by pizza and natchos while watching the evening commuters return to Manly via the harbour boats.We had traversed the most iconic place in Australia and it was not until the next day that we came across one of the most dramatic vista of our lives so far.
| | |
| --- | --- |
| | |
Summary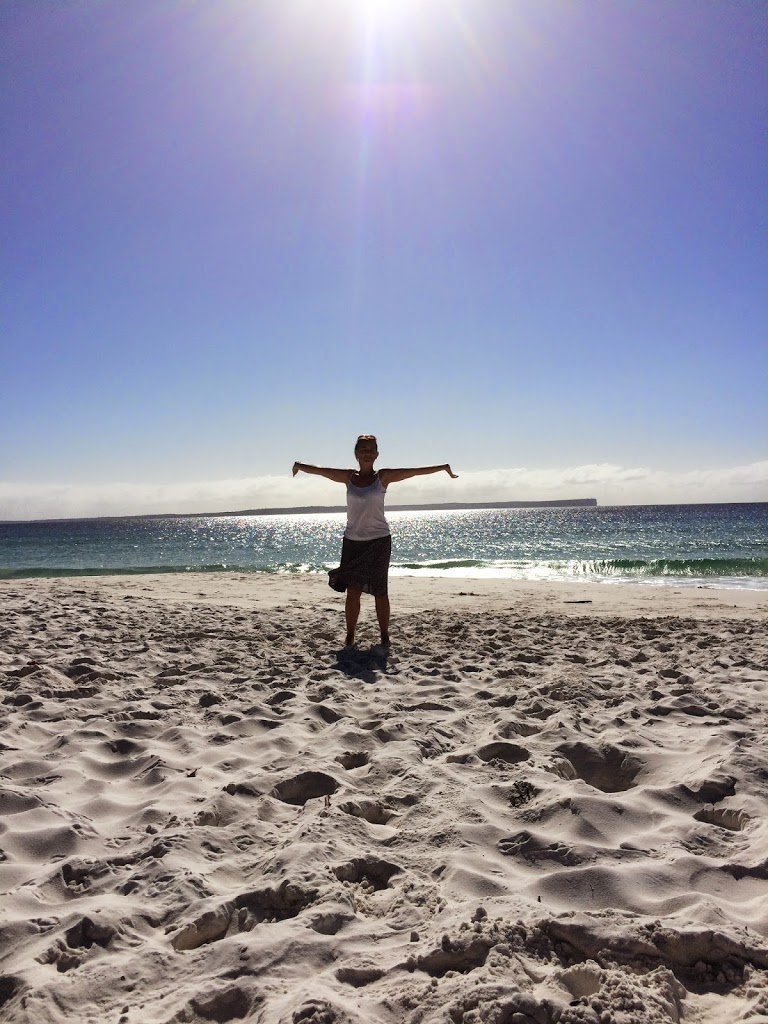 Article Name
Description
Jervis Bay claims that it has the whitest sand in the world at the famous Hyams Beach. We wanted to find out for ourselves on the great ocean drive
Author