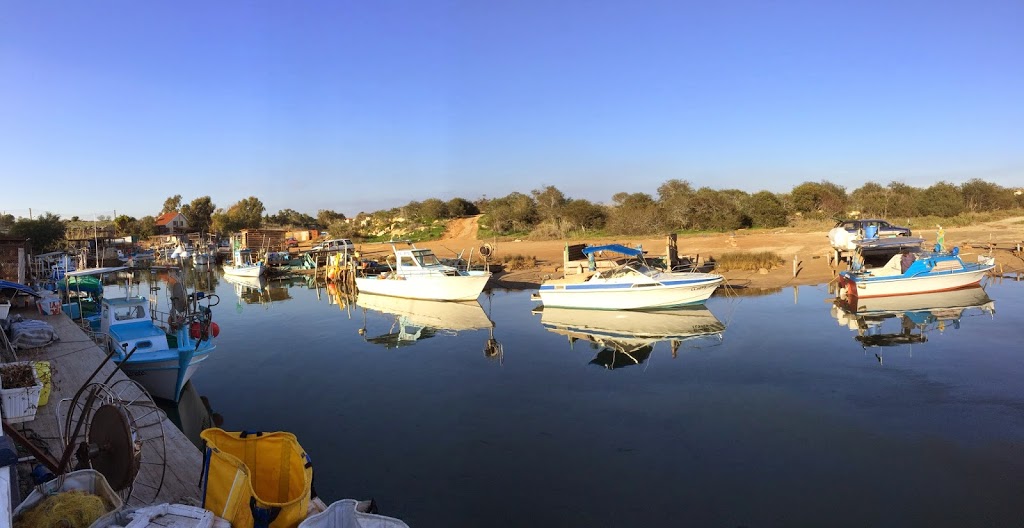 Potamos Fishing Community
Part of each morning's ritual is the obligatory dog walk. Taz responds to three words with a raised eyebrow and a wag of the tail: walkies, biscuits and treat! Now, I think our pooch has been playing games with us all these years, I really do. At one moment he seems like the most intelligent animal in the world and the next, well, he may as well have been called Spike like the American Bulldog in the 'Tom and Jerry' cartoons, "That's my boy!"
Whilst returning to the house today, I had the feeling we were being followed. I turned and noticed that two dogs were stalking us! Taz was oblivious. As we stopped, they stopped like we were playing some sort of playground game. I'd like to tell you that these creatures were snarling, malevolent, drooling, red eyed beasts but they were no bigger than a couple of hands. What I think they were doing was seeing us off their patch to prove to their owners that dogs really can be useful! Because, let's face it, not all hounds have been blessed with brains and stardom like Shep from 'Blue Peter' or the garrulous Lassie! These were exceptional pups born with a silver bone in their mouths. I'm just waiting for the scandal to break that outs Skippy and Lassie (a la Harris and Hall) and all my childhood heroes will be gone!
One of our disciplines out here is to leave Taz for a few hours each day as since October he has got used to us being around all day. So, we headed for the bus stop to take (deep breath) public transport. Whilst looking up the road waiting for our carriage, we saw a grey terrier fluff-ball from our street (that we had christened Abraham De Lacey, yes, I know, he was a cat) trot across the busy road and head off toward the local shops. We screamed at it not to cross the road but like Taz chasing a bitch on heat, Abraham's ears were firmly closed. He waltzed past a Toyota and waddled past a Cashcow and was soon lost among the parked cars.
We both took deep breaths and sat back down, drew out our phones from our holsters and then quickly replaced them as a phone without Wifi or 3G is like cereal without milk. Next up, came a dog we had not seen before. He was very small and could have passed for a rat in another life. He scuttled up to the edge of the road and like Abraham did not break stride. Luckily for him, the traffic had taken an unlikely pause allowing him swift passage to the same shops Abraham was now perusing.
It was not until a few days later when we were scouting a place to get Taz his hair cut in a shop called 'Pet Parade' that we realised where all the dogs were going. They had been lured by the smell of the dog biscuits leading them like the lilting tones of the Pied Piper's flute across Cyprus' equivalent of the A1. As Michelle received a quote, she looked down and there was scruffy Abraham on his best behaviour receiving his equivalent to the Victoria Cross, half a jumbone!
Now, for those of you who follow celebs, no one is hotter at this moment in time than Matthew McConaughey. He has starred in 'True Detective' (amazing TV show – do watch it), the movie, 'Interstellar' and for me, stole the film 'Wolf of Wall Street' from the other actors with his 5 minute cameo. So, imagine my surprise when I logged into Twitter and saw that I had a new friend request. I'm always interested to see who has reached out over the inter web and flattered when a request comes through. Usually, it's Olga someone or other who wants to tell me dirty stories and if I 'click here now' I can see all of her, but recently I have made friends with Australians and authors from Scandinavia! All is good. I touched the notification and there he was, the unflappable Matthew asking me to be his friend!
Perhaps he has heard about my book and wants to play the starring role? Well, Matthew, old son, you'll be considered with all the other Hollywood glitterati when the screenplay is sold for millions!