Apologies non sports fans but this blog is entirely about football, you can thank me later for the extra time you now have in your day, about one minute and thirty seconds for the scan readers.
Have they gone? Ok, I'll start.
From your international football correspondent, Mike Devitt,
Paralimni's impressive stadium is located right next to the cemetery, so that when major rivals come to town the bodies can be dealt with quickly after any fights, Cypriots don't muck about with funeral.
If possible, you are buried on the same day. Hole dug, body in. Job done.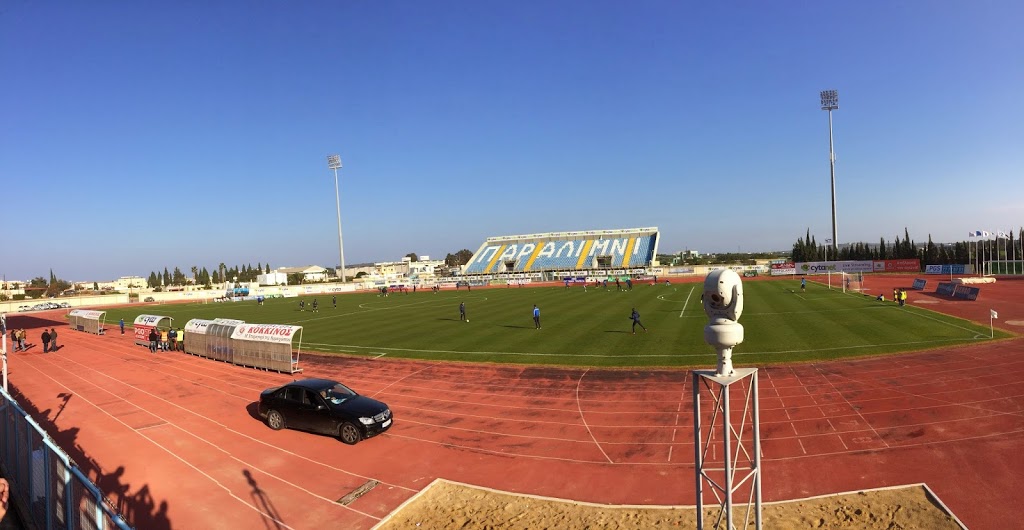 A most bizarre moment (lovers of the planet look away now) as I purchased our tickets at the turnstile. I handed the girl a 20 Euro (for two) entrance money. She handed me 2 tickets and then a man who was standing opposite the ticket office took them from me, tore them up and wouldn't even allow me a stub. Yes, that really happened! What was the point? I could have just paid the money and walked in.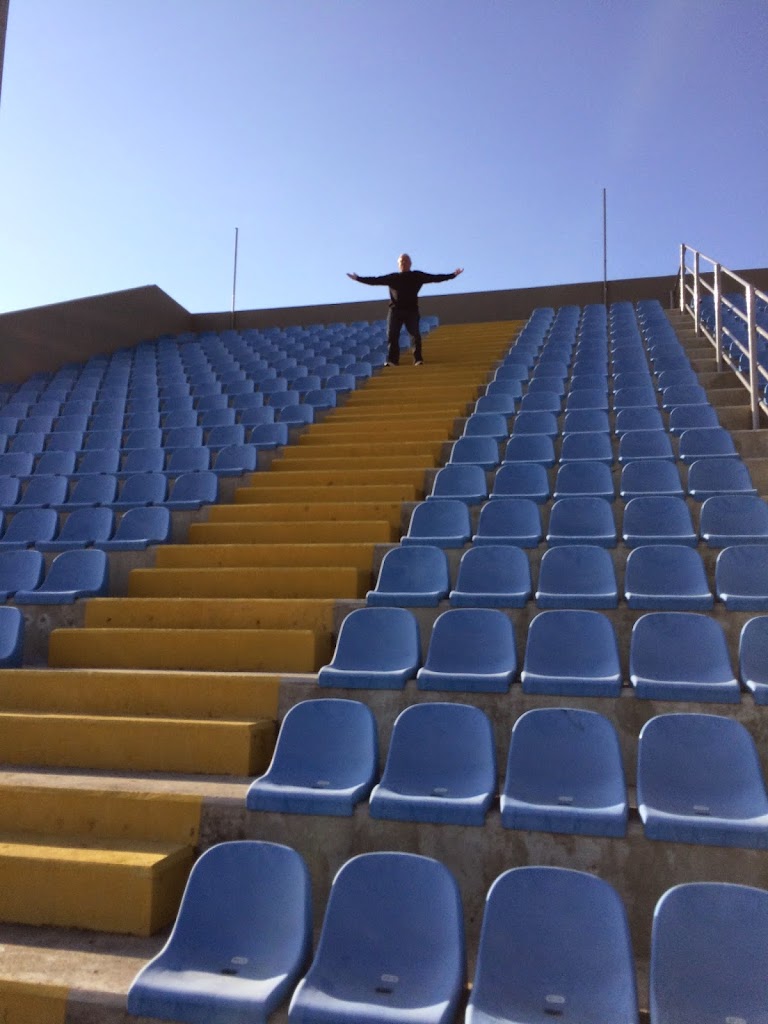 10 minutes before kick off and we were struggling to find a seat
For those of you dying to know what the score was in the match between top of the second division Enosis Paralimni FC and APEP, a packed stadium saw the home side score 4 unanswered goals in a convincing win. I didn't see the first goal properly because I was listening to this chap who was attempting to rouse the seated spectators in a thoroughly drab first 25 minutes. He shouted at us all. Apparently, as home fans, we needed to cheer more! At times, I was reminded of Gillingham versus Sheffield United as the goalkeepers took turns to pass the ball to each other but the standard overall was probably 1st Division.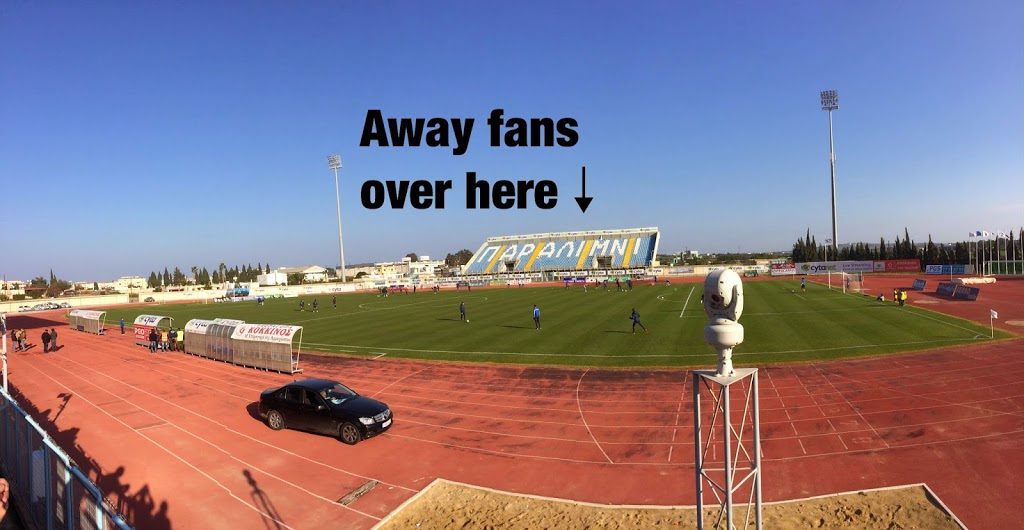 There was nothing for the away fans to cheer (there weren't any away fans) as APEP struggling at the bottom of the division failed to make a single clear cut chance in the first 45 minutes even though they had a Didier Drogba lookalike that fell over every time he was touched: there the similarities ended.
Half time then and a chance for some refreshment. As we made our way down to the kiosk, we noticed that the gates had been opened fully and people were just walking in to watch free football!! You'd only ever see that at the Emirates where they just can't sell tickets to watch mid table mediocrity. For a mid interval snack I had a Cadburys hot chocolate and a Goobes.
Hot Chocolate and a Goobes!
Now for those of you that believe that it looks like something else, I can reveal it had something inside it. I honestly couldn't tell you what it was but it was crispy and not altogether healthy. I have a feeling that the APEP players ate a few trays of them at half time because within 10 minutes of the restart it was 3-0! Even our rabble rouser stopped shouting and the game petered out as the winter sun dipped below the height of the pitch and we felt the chill of a Cyprus winter settle around us. So, 3 points and a mouthwatering tie, next week away to local rivals Derhynia! Come on you er, Paras, no, er, limnis! They wore claret and blue so let's just call them West Ham. Come on you Hammers!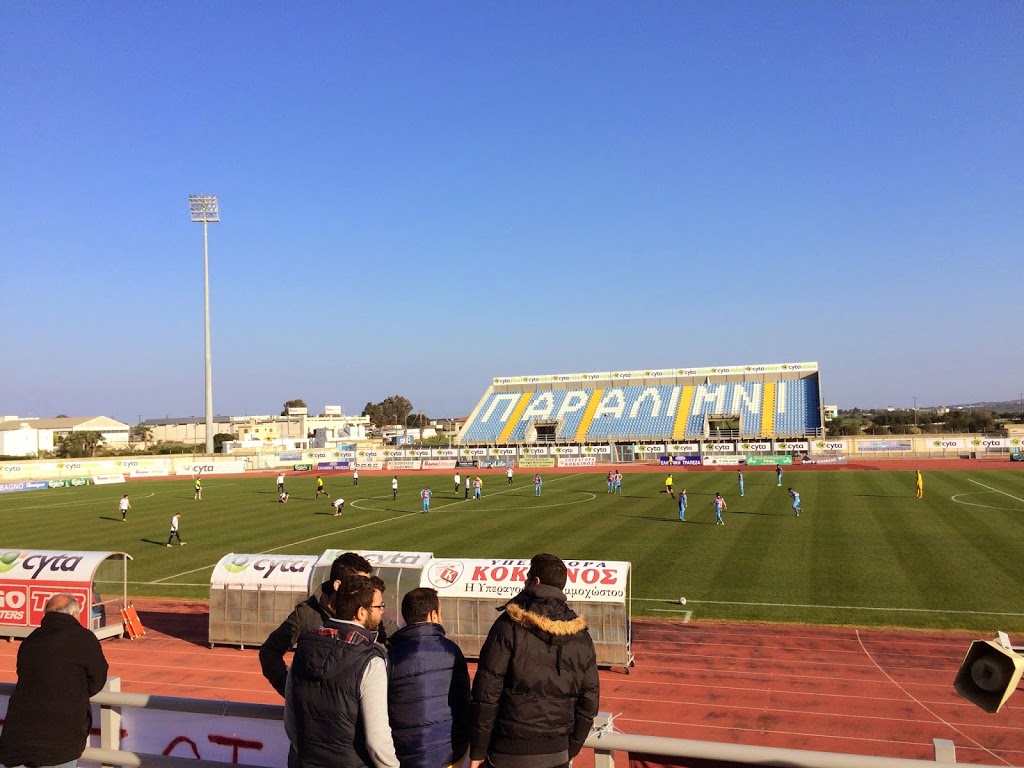 West Ham on the right!
Watch Free Football!
Open the gates at half time and let them all in