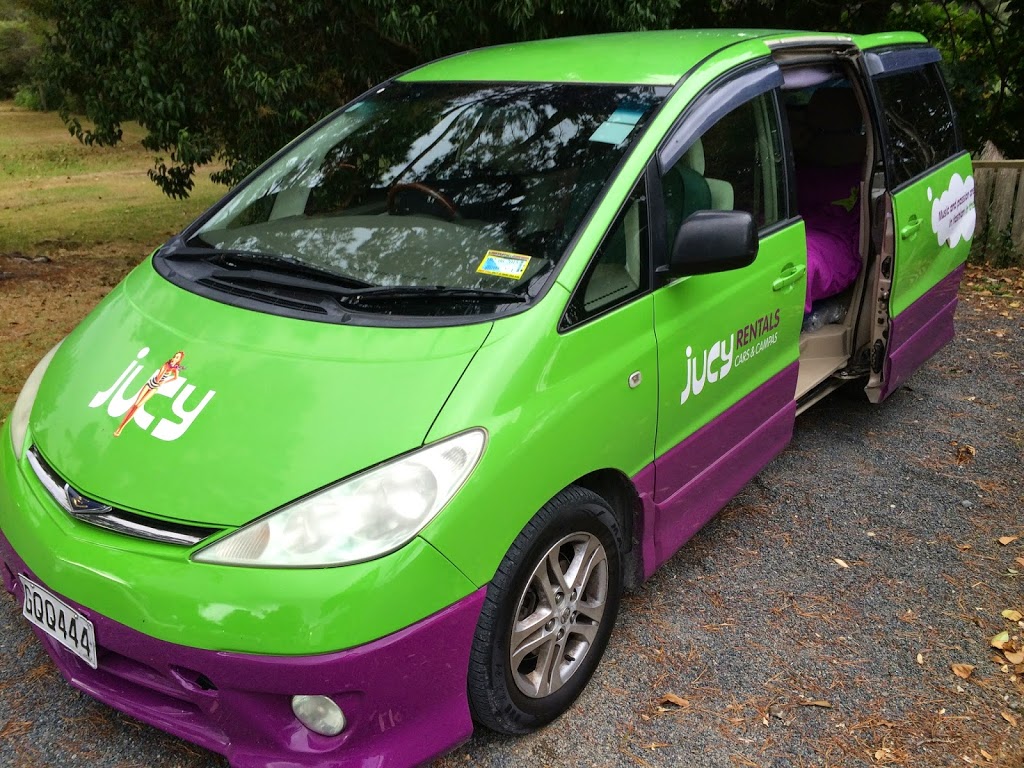 Chuggaboom 7 – The last of the Chuggabooms!
The day of the Jucy Cabana had arrived. The spectre of camping had reared its head again almost 10 years after we had driven around Europe towing a caravan. For those of you that remember our green Honda, it had a champagne interior and a 1.4 engine. Ascending the St Gotthards Pass in it with a huge caravan behind was a sobering experience, especially at 10 mph: the queue of traffic behind us was about a mile long!
It was a wake up call worthy of a day at work but we had booked the Cabana for 8am and needed a pick up back at the airport. Some advice now for anyone thinking of using a camper van around New Zealand. Jucy are probably the busiest of all the companies that rent them out and even though there was not a queue when we arrived it still took around an hour before the van arrived for us. Imagine the queue in the summer? We could tell it had been freshly cleaned outside but inside was not too great. I guess that valeting can only pick up so much dirt and dust but we gave the vehicle a thorough check before leaving base checking lights, inside and out, the gas appliances, the water and that we could fit everything inside. As you can see from the photo, they are not large and anyone over 6 foot would definitely struggle to sleep but it seemed well equipped.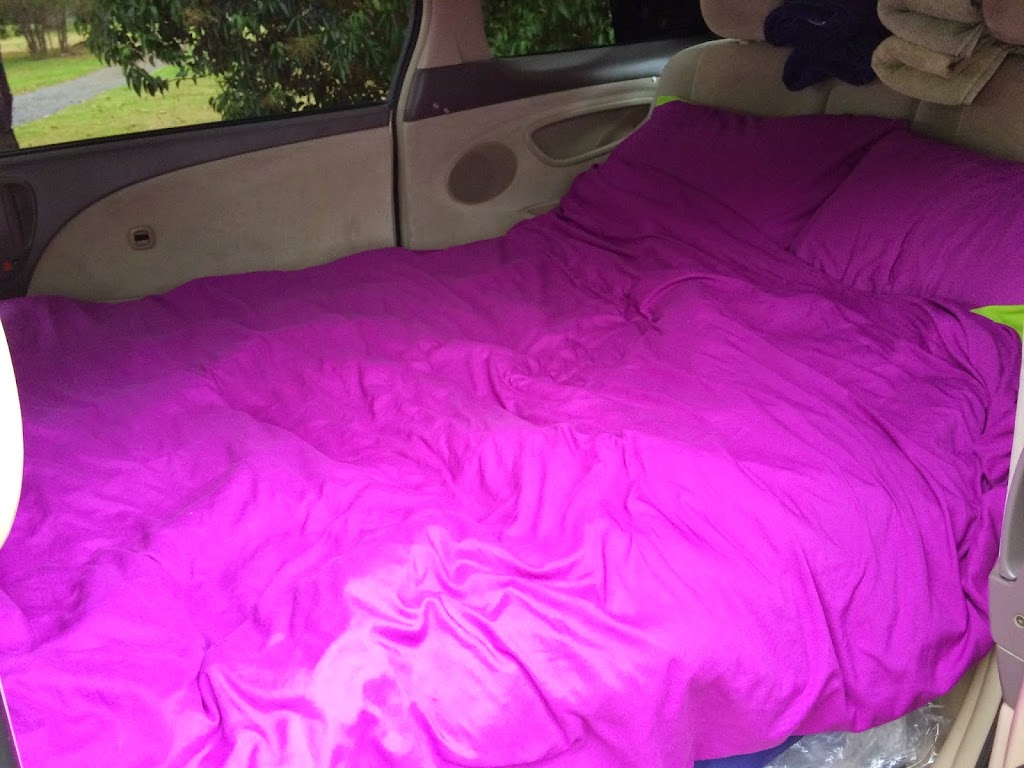 Our first stop was Countdown (big chain NZ supermarket) where we picked up some food to take with us and our 3 litre drinking water. In both Australia and New Zealand we have drunk gallons of the stuff and you are not sufficiently equipped to walk anywhere without it! Our next task was to take to the road and make the long trip to Pahia! Pahia, we learnt is pronounced Piehere from a community volunteer we met in a place called Whangerei pronounced Fengeray! Already beyond confused that the English language can have more nuance, we turned on the radio to hear that this 'wikind' there was a top 'Tin' chart rundown! Being the impressionist that I am, I spent the entire 4 hour journey mimicking the DJ's accint! I can now report to you fair readers that one can tell the difference between the Aussie accent and those from this land. Isn't the English language the most diverse and interesting dialect of them all?
Back to our journey then. Avoiding the toll road just north of Auckland by taking a detour via Orewa we soon began to chalk off the kilometres. However, having been warned by Laura and Richard that speed limits are adhered to very strictly in NZ, the signs for roadworks appeared fairly regularly and we were soon poodling along at 30-50 kmh which was hardly going to help us reach Pahia in a decent time. We also wanted to break the journey up by stopping at various landmarks. The first of these was Whangarei falls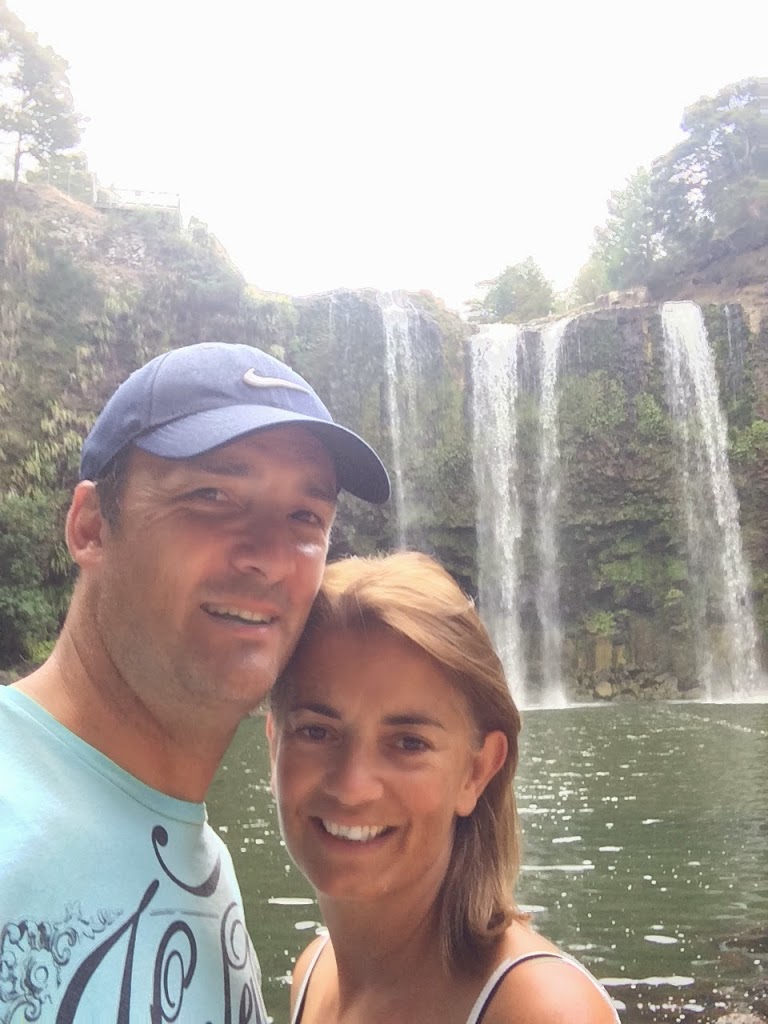 and then we performed a u-turn and headed back to the town to see a little more. It was pretty, but unspectacular, but maybe that was our mood and perhaps we still hadn't got over our first love, Australia. We were beginning to flag and still had to reach the campsite we had booked by phone earlier that day. We drove through a number of showers which prompted Michelle to begin to mention the weather. This is always a bad sign and should be treated like red sky in the morning. We both calmed though when we reached the Twin Pines campsite. We were given plenty of room in our berth which was beside a lake and falls and on site there was a fantastic kitchen, very clean showers, laundry room and comfortable TV lounge.
We then met another young couple who had traveled here especially, called Shane and Jade (who was Mauri) both from NZ and they challenged us to a game of table tennis. An Indian family also entered the competition: battle was joined from all the nations. Shane – who was about 24 – soon established himself as champion by beating all of us but I knew there was English pride at stake here. Smashed by the Aussies in the cricket, humiliated by the Kiwis in another match: I had to keep our national pride! We played another few quick games and then I established myself at the table as 'winner stays on' champion. Our Indian friend turned out to be a very useful player but he criticised the equipment saying that it was sub-standard. Well, this is hardly the Olympics is it? It's a campsite in the middle of nowhere!
Strewth! Game after game I kept the home fires burning and all I wanted was my bed!
Then, having beaten everyone, our Indian friend said that he was going to beat me in a game up to 21. This was a huge challenge. The night was humid, the atmosphere quiet but the Indian family were watching and this had turned serious.
It was 11-11, 12-12: the game was tense and tight, but then I summoned my last energy and began to pull away. He became desperate trying impossible shots and very soon it was all over. I was the Twin Pines World Champion. The English flag could be unfurled again! Cry Harry for England and St George!