For many years now I've been lucky to share my time with Michelle but this morning was not her finest hour. Now, I don't think it is unreasonable when you have finally gone to sleep at 3.30 to say, lie in until 11? But, Oh No, the covers rustled, the feet hit the floor and I was being informed that we had no time to lose at just gone 8. I will let you form your own judgements here but I would be interested to see which side you all fall on! After I had let her know that this behaviour was unacceptable we began our day in a very hazy but warm Dubai.
We headed to the Mall of the Emirates across sandy stretches of ground (and the constant noise of the building that takes place here) where we proceeded to devour a falafel breakfast come brunch for the princely sum of £5 (for two) whilst ensuring (according to the mall leaflet) that we did not kiss or show public signs of affection, which was very easy for me after my paltry sleep. The first thing we had noticed was how respectful and polite everyone is. Your personal space is never invaded and there is no hard selling or obnoxious behaviour. There is the calming smell of perfume in all the shops and walkways while works continue apace.
The next item on the agenda was to purchase a selfie stick as we were heading for the Burj Al Arab to show ourselves off: typical tourists!
Now, there are a number of options to reach that destination: A taxi, a bus, hire a car, take the free hotel shuttle service or walk. Which did we choose? Of course! We walked, and walked and walked and er, walked. Now, I can hear you asking was there anyone else walking to the beach? Not from the Mall of the Emirates they weren't. We could see the iconic structure in the distance and my internal satellite nav kicked in to direct us there in the shortest possible distance. On the way we were lucky enough to see a number of cycle teams out here training including Team Sky and Movistar.
However, by the time we arrived at the only grocery store we had seen for miles (right next to the beach) we knew we had pushed ourselves too hard. It's amazing what a couple of hours of relaxation on the beach, a swim in the cooling but comfortable waters of the Persian Gulf will do for your soul though. But our lunacy soon returned kind readers. After packing away our drinks and cameras and me not realising that the changing rooms on the beach are not unisex, we agreed that our next stop would be the famous Palm! It was around 3 pm.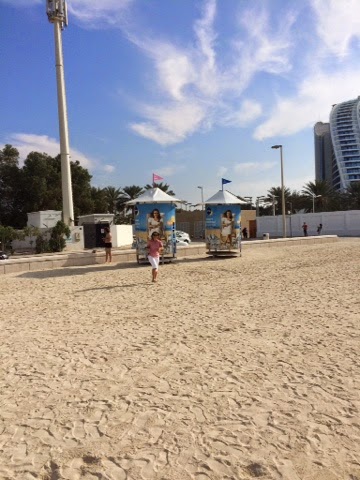 Sensibly, we elected to take the bus not realising that in Dubai you need to purchase something called a Nol ticket first (they do not accept cash and you can be fined) which you cannot do when you are already at a remote destination. OK, let's get a taxi, and we hailed one after another and they were all full. Next option, yes, you guessed it, the use of our legs.
The walk itself began well but we fairly collapsed at the next bus stop still not completely knowing how far it was to the Palm. Luckily, a taxi pulled up alongside us and this time, our driver was Vin Deisel. We weaved in and out of the traffic as if we were an ambulance and were soon heading over an expanse of water onto the famous 
5 star hotel plaza
. We stopped early on as we were very hungry and after a foot long Subway were able to tackle the next part of our day, the journey to Atlantis which lies at the very end of this incredible illustration of man's endless capabilities. We were advised that the monorail entrance was nearby and headed to the entrance, however it was closed. Aaaarghh!! At this point, we had walked about 6 miles and I had personally hit the proverbial physical wall. Hailing a taxi was impossible so we made the tough decision to, you've guessed it, walk back over the bridge, back where we had came from. We strolled through a number of parks where parents supervised their children, this was where the locals lived and they were cooling off in the shade of the enormous buildings. The path itself was a deep red and ran all around the complex.
There was also a bounce to it, hence a number of evening runners. But our purpose now was to retreat and try, if possible, to find some public transport. As we walked across the deserted bridge, the moon appeared to our left, the sun fell into the horizon behind us and we were rewarded with the incredible sight of the Marina district and we both agreed that whilst a package trip can contain many marvellous and wonderful experiences, there is nothing like your own personal discovery; that private moment not shared by others.
Dubai Skyline
After another hours walk and a trip on the Tram and Metro past Dubai Internet City (what a great name that is) we fell into the apartment having walked nearly 8 miles in a country that 18 hours ago we had never visited before.