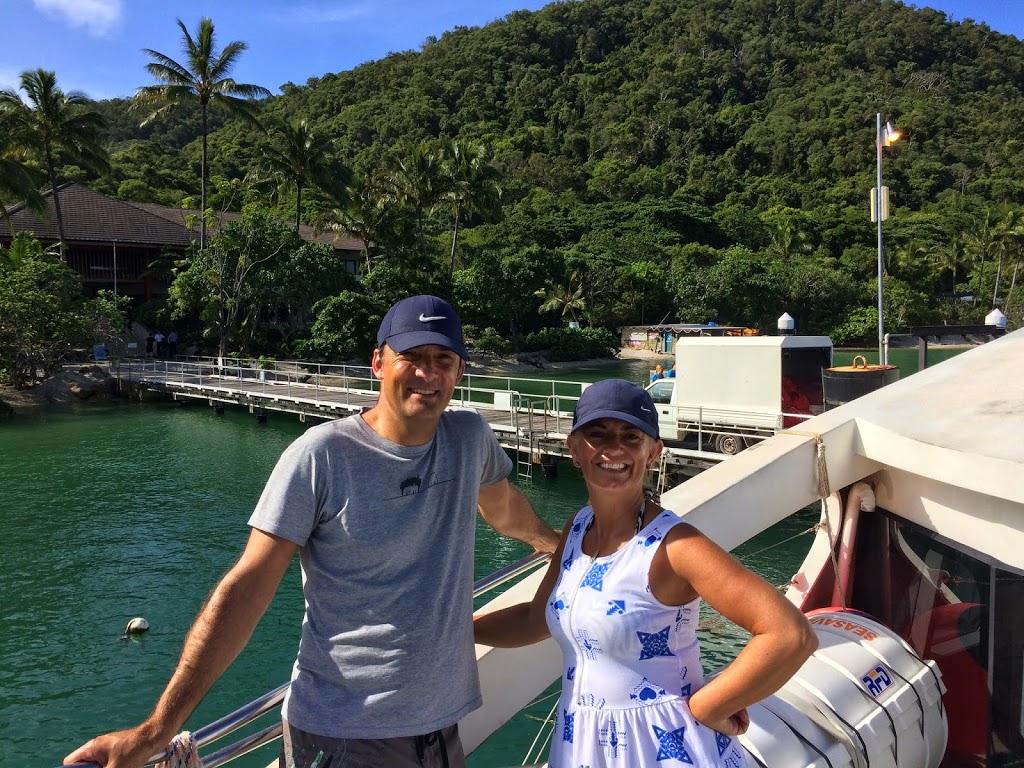 A day to remember!
[mappress mapid="36″]
The Great Barrier Reef Australia
So it finally arrived, the day we that we came to Cairns for. Yes, it's the biggest tourist attraction and yes loads of people had done it before but this doesn't diminish how special we felt. As I creaked out of bed, stretching and breathing at 5.45 a.m. I had the tiniest regret that we didn't visit the Great Barrier Reef Australia sooner in our lives. Ooh about 30 years ago! Back then, everyone's holidays were very different and Spain was long haul. Australia? Forget it, only supermen and women do that! 24 days hours on a plane was unthinkable.
The wind makes all the difference
After booking to snorkel on the Great Barrier Reef Australia (Milln Reef) earlier in the week and noting that the weather here may preclude the event. We opted for Thursday as even it if rained, we needed a glassy sea or at worst a small breeze. Big seas ruin the experience and any strong wind will only exacerbate the problem.
The boat from CDC Dive Centre soon meandered slowly out of dock with a full boat: not bad considering we were out of season. The wind was 0-5 knots. Perfect. It took 45 minutes to arrive at our first destination, Fitzroy Island, and once we had picked up a few more people we headed to the outer reef.
Stinger Suits
So, being Mick Dundee you would be thinking that I would be suited up and diving deep! Er, no. Suited up, yes, deep, no. We were all in stinger suits even though the likelihood we would encounter any nasties would be minimal at best. A stinger suit is a blue onesie, designed to show all your bulges and despite my best efforts to breathe in and look half my age, at some point I just had to let it go! Oh, and there is all the beer and curry. Michelle looked amazing though and very happy. I think she realised today just what she had achieved in getting us here. This has been her show since we had the idea and I knew she would pull it off; I just wasn't sure I could.
Even the most terrible of swimmers can swim on the reef
Now, I should explain our swimming backgrounds and I'll be brief. Michelle is a fish and I'm the anchor. Sinking to the bottom of the ocean is always a high probability (maybe a first for a person with flippers) for me and so on the way out, I nominated Mrs Nemo to be my swim buddy. After lying on all the medical consent forms; of course I'm fit enough, we donned the spidey suits, masks and snorkel and began to swim. As I let go of the boat, a certain panic rose in me but I soon turned the engine on and the flippers propelled me to the reef.
The Wonder of the Reef
So there it was, the fish and the coral, another of the worlds natural phenomenons (one seventh of the wonders) staring at me as I began to drink the sea. What, you don't open your mouth when you are snorkelling? Doh! Joking apart, the sight of schoons of fish darting around me was exceedingly amazing and I was surprised how quickly I became tired and needed to swim back to the boat. The divers had already left on my return and I saw for myself how some people have a go and give up immediately and others manage to pass all the tests and actually submerse themselves to the ocean floor. Well done to them, that really is an achievement.
A Lovely Lunch
After a great lunch which included hot mushroom pasta, cold ham, cheese and salad we anticipated a great afternoon. As we were in a period of spring tides, the ebb promised to reveal the coral to us even more and as the wind dropped to nothing and our boat slipped its anchor to a slightly better spot we embarked on our second swim.
It's great to see the reef as a couple
Holding hands we kicked with our legs and soon came upon the most arresting sights: yellow fish, rainbow fish, zebra fish, a huge brown fish (hark at me with all the technical names) and lots of tiddlers. The coral was just underneath us showing us caves of fish and holes to swim through; it could be touched but this is a Unesco World Heritage site and any displacement of the reef could take years to regenerate.Just before we were due in, Michelle and I saw a stingray hoovering the ocean floor and this was quite easily the best spot of the day.
Back to Cairns
As we headed back to Cairns, a small sea breeze, temperatures well into the thirties and everyone on deck tanning with a beer in hand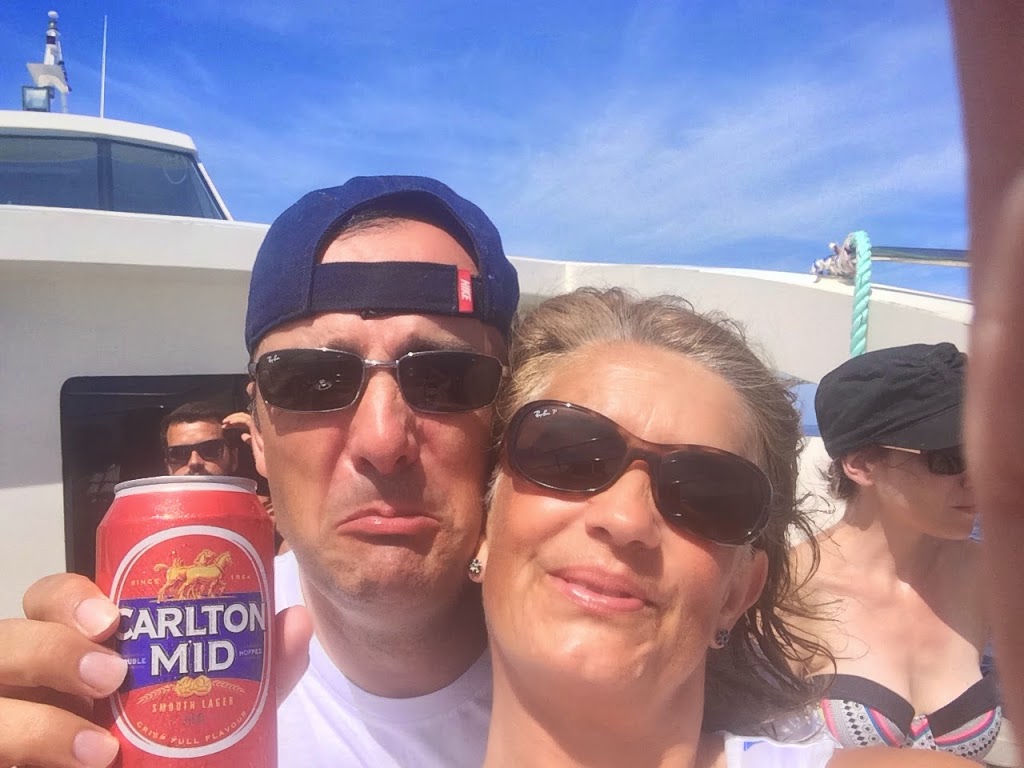 There's a head on my beer!
we thanked our lucky stars that we had been blessed with the weather and each other, still swimming strong in our union 26 years after we first met. How cool is that!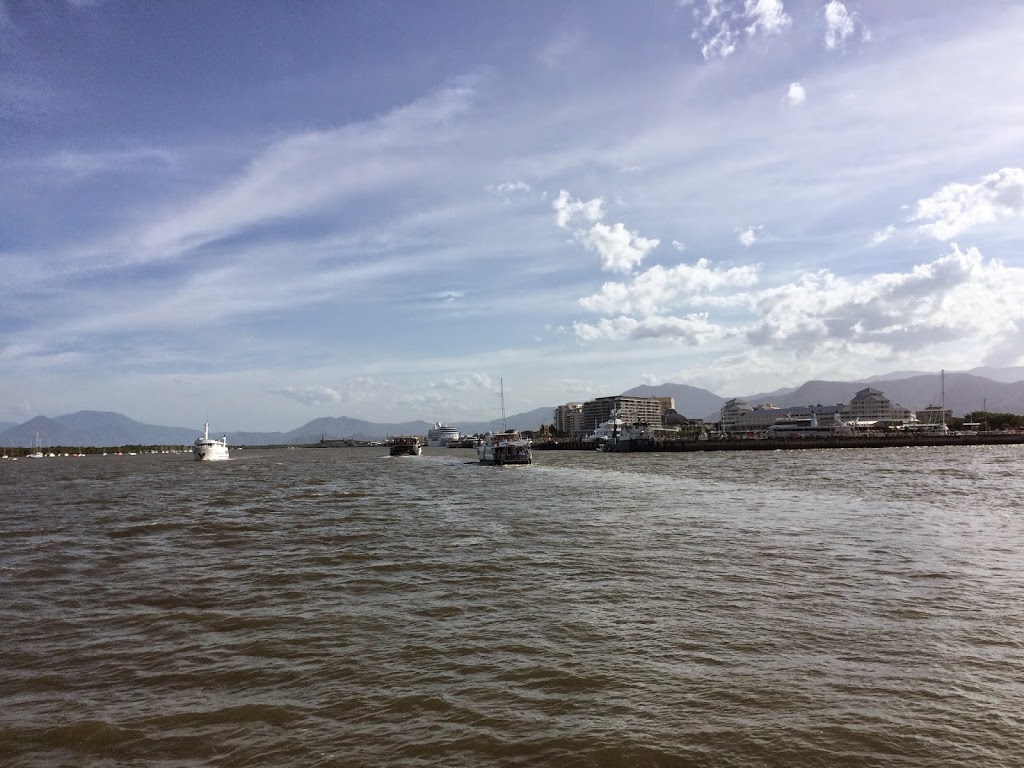 Cairns Marina ahead!
Summary
Article Name
Cairns - The Great Barrier Reef Australia
Description
The Great Barrier Reef Australia is more than the coral, the fish and a boat trip. It gives snorkellers and divers a chance to see undisturbed nature up close.
Author