Waking up in Lake Tekapo
We always knew that, at some stage, the journey back to Auckland would tap us on the shoulder and say "it's time."
Added to this, there was the extra burden of a day's flight back to Cyprus and the promise of returning to our Mediterranean lives: some realities were kicking in. We had become conditioned to moving on every day, ticking boxes on our itinerary whilst trying to allow all the sights and sounds of this incredible adventure print stills in our memory.  And although this would still be the case on our last few days our hearts started to drag behind us. This was amplified the day we drove to Oxford. We knew that time was running out.
Having had probably our best 18 hours of the whole 8 weeks the day before, this one could well have been an anticlimax. We packed up early and made our way back to the Mt John Observatory to see the views in daylight.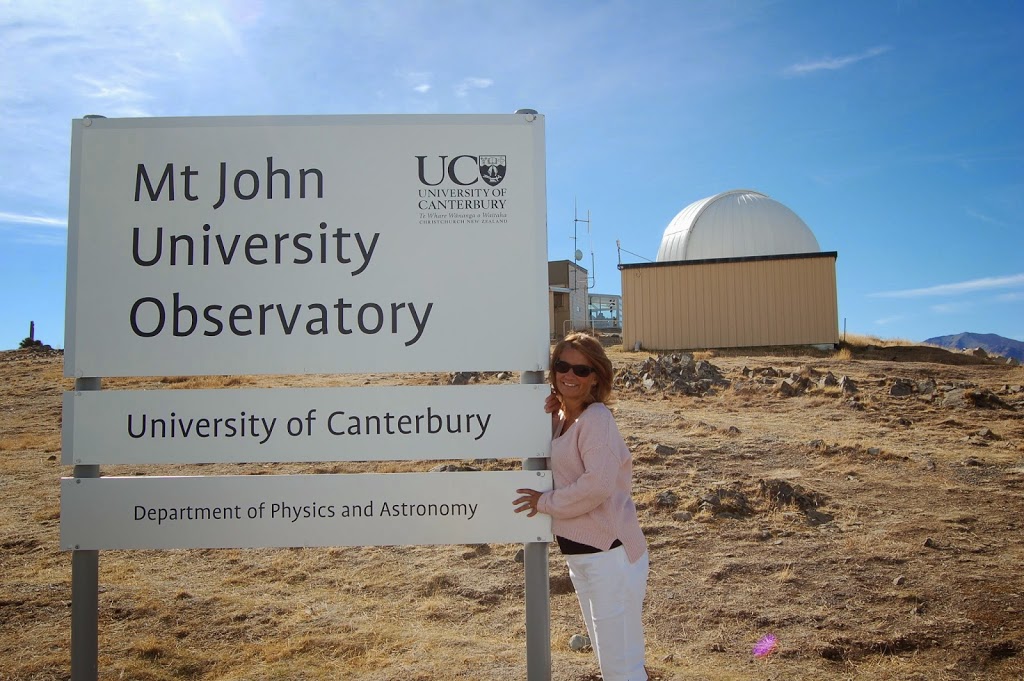 Another lovely day on the mountain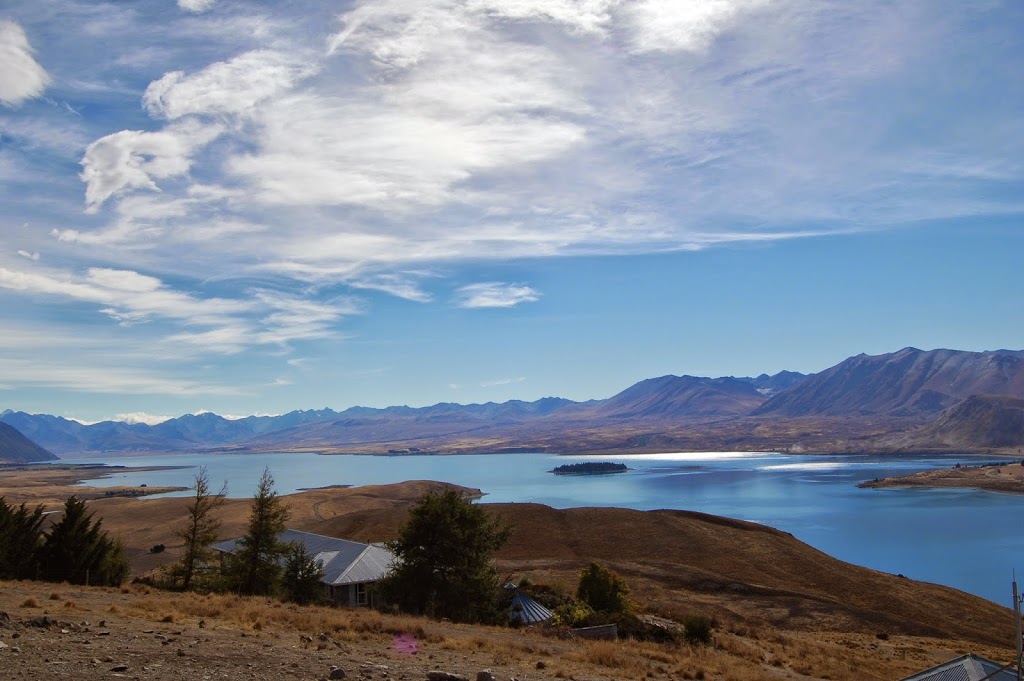 Lake Tekapo
The town of Lake Tekapo
It was like re-visiting the scene of a party from the night before except that the mess had been cleared up. The galaxies we had seen only a few hours earlier seemed like a dream. As we looked up, the sky had drawn across its blue curtain and the astronomers version of Disneyland was enjoying its own rest.
The Hobbit was filmed here… and you can see why.
What we saw instead was the lay of the land. Apparently, the Hobbit was filmed at Lake Alexandrina just beneath our position. Behind and stretching into infinity, miles and miles of the same terrain we had seen on the way to Twizel; the same drought existed here and according to the driver of our bus – who returned us back to the village the night before – this region was a little in need of some of the wet stuff. To illustrate his point, he said that all the livestock had been moved further north as there just wasn't the healthy green grass for them to eat. He described the McKenzie country as a bowl and that weather systems seemed to find a way around it rather than through it. This was easy to believe bearing in mind the lovely spell of sunshine we had experienced, but it did show that maybe more places in our world may just become terrain we cannot exist in. It is ironic that the astronomers at the observatory spend all their scientific time searching for planets that have water and therefore can sustain life but the land they live in is becoming a dry well!
It was time to leave. Knowing that the end of the odyssey was upon us created an unusual atmosphere in the Jucy Cabana. We began to reminisce and even though we still had a few days of holiday left, I think we could have quite easily finished it on the high and flew home there and then.
Oxford Bound
The road to Oxford and the rest of our day soon changed those emotions though. The countryside changed again; this time a concoction of the blue waters of Hokitika set against the more traditionally rural scenes we are used to at home, but then a mountain would suddenly appear to remind us we were in volcano country. We also drove across a stretch of road that was the straightest I've ever seen. This would have been a good advert for falling asleep at the wheel for 20 minutes or so and not having to worry.
We reached Oxford at around 3 p.m. I've mentioned in previous blogs that I believe that home is people and not a place and the next 12 hours or so would bear this out. Having not seen Richard and Laura for 4 years and remembering their leaving party, I felt that I had journeyed here to retrieve a lost part of myself. It was as if Lord Voldemort had taken a piece of my soul and sent it to New Zealand. Well, I was here to get it back, but of course being reunited with old friends just makes you realise that the ornament of your previous relationship is part of what still makes you tick. People have all kinds of influence over us and all I desired was to enjoy some of that again. It is hard to express how great it was to see them both again but I did come away with a conclusion.
We all now live in a much smaller world and what our communication devices do allow us to do is speak to people. We can see them face to face. So for anyone stuck on level 4 million of candy crush, maybe that time could be better spent re-establishing those old connections.
For those of you that want me to dish the dirt on their new lives like a reporter for OK magazine, I can reveal that they are doing very well: considerably better than us! The house in Oxford has a wrought iron gate entrance and the rest of the home is a smorgasbord of comfort. The lounge is a perfect size for relaxation, the kitchen is huge and all around the home there are more rooms than I would know what to do with. This is all looked after by the effervescent hound, Harry and their gremlin cat, Gizmo.
When sleep took us that night, we enjoyed the undeniable comfort of a bed for the first time in weeks!
It was bloody wonderful!