Milford Sound
When we booked this unbelievable trip I could have very easily forward wound to this point. This was the event I was most looking forward to. When anyone mentions the words 'Milford' and 'Sound' consecutively there aren't many people who don't profess to having a desire to go there, know someone who has, or has made the trip themselves to the holy grail of tourist spots in NZ. The trouble with having so much expectation is that the eventual experience could be a disappointment.
I'd been checking the weather for the past 10 days hoping that the sun would shine. I'd even said that I would forego other days of sun so that this one could live up to its special billing which I thought was very reasonable on my behalf.
So far, since alighting in NZ, the good lady and I have tweaked our itinerary but not forgone any event or got ahead or behind ourselves. This has meant that we have enjoyed every second and I would recommend remaining flexible in your choice of events but remember that some places can look equally beautiful in the rain or that's what we've been told! The drive to Milford was a joy and demanded stopping at least twice to savour the views and take those money shots on our smartphone and digital camera.
Our first stop came courtesy of an unexpected surprise: a view that hadn't been signposted first. We had been under the guidance of the trees through a particularly twisted section of forest when we emerged onto a long straight and a field that was flat until the hills.
You could imagine horses on it galloping away toward the mountain sunrise. It was here we stopped for a quick coffee as our eyes rested on both the foreground and background. 5 miles down the road and we were now into the mountain side taking pictures of the various surrounding peaks and valleys.
Pop's view lookout
Pop's view lookout
For those of you that may have driven through the odd tunnel in your life, nothing compares to the one that is considered to be the entrance to the area. It looks like the kind of tunnel that Charles Bronson's character in the Great Escape would have built. It is a single carriageway and I was interested to see how this was controlled. As you near the entrance it looks like a tiny hole in the rock.
Up close and the opening is controlled via a traffic light system with a helpful countdown so that you know when you can enter.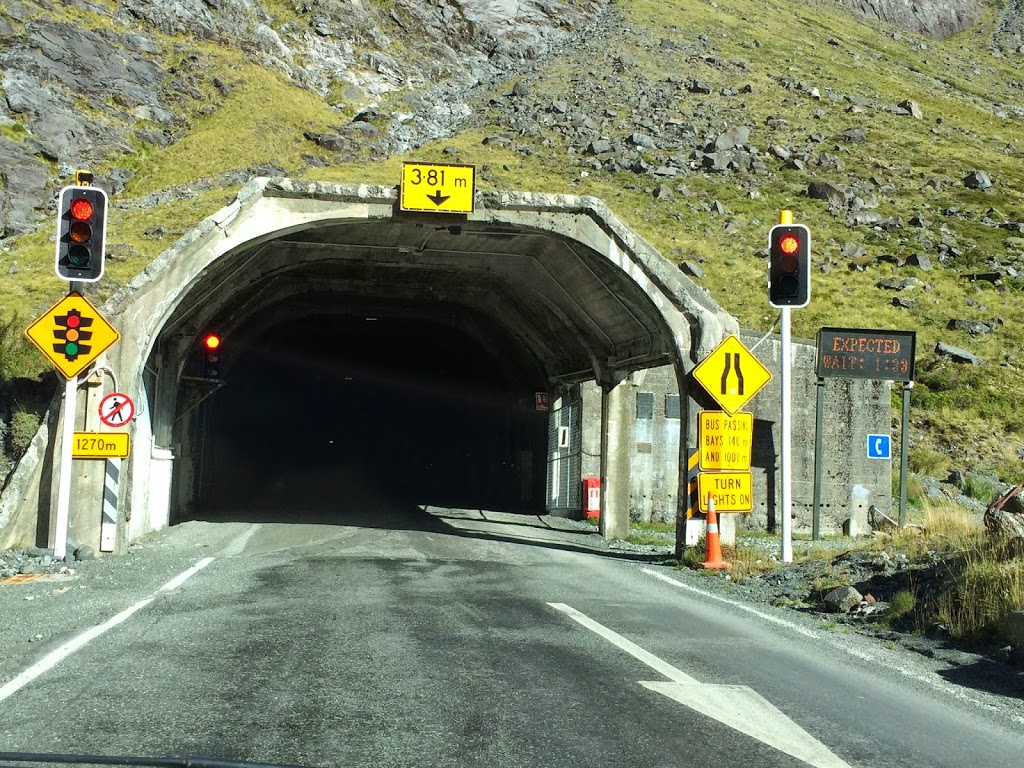 Homer Tunnel
Inside and this was not the Dartford or Blackwall tunnels, the road itself was a little bumpy in places and the ceiling showed the markings of the drill bits that undoubtedly created the opening in the first place. To make matters worse, the tunnel is called the 'Homer tunnel'. Doh! Let's hope he didn't create it after a few Duff beers!
On a serious note, the original tunnel was begun in 1935 by 5 men with pick axes and wheelbarrows and though some were killed by avalanches their legacy still stands today and allows thousands full access to one of the worlds wonders.
We arrived at Milford and I should at this point rewind slightly to the morning.You cannot just turn up at Milford and expect to get on a cruise and there are a number of boats and options. TripAdvisor can be deceptive here as there are many people who cannot wait to share a less than 5 star experience. Because we had hired the Jucy Cabana we had the option of the Jucy cruise with one person sailing for half price.
A very Jucy boat!
On TripAdvisor Jucy's cruise had mixed reviews. Some said that the boat simply went up and down the sound for 2 hours and others said it was great value.
We were visiting Milford once and did not want to get it wrong but eventually the cost lead us up the path of saving money and we stayed with the Jucy boat. We needn't have worried.
Have a look at the video below to see the beauty of the sound.
All the boats apart from one company seemed to take the same track. We followed another much busier cruise up the Sound and while that vessel seemed to have humans packed onto it like a tin of sardines ours was free enough to swing the proverbial cat around (as you can see from the video) and there was no sign of our boat turning for home.
The Sound itself on this beautifully sunny day is a line up of the most beautiful models in the world. Each face of each mountain competing for your attention and communicating that it would like world peace!
Milford Sound
Milford Sound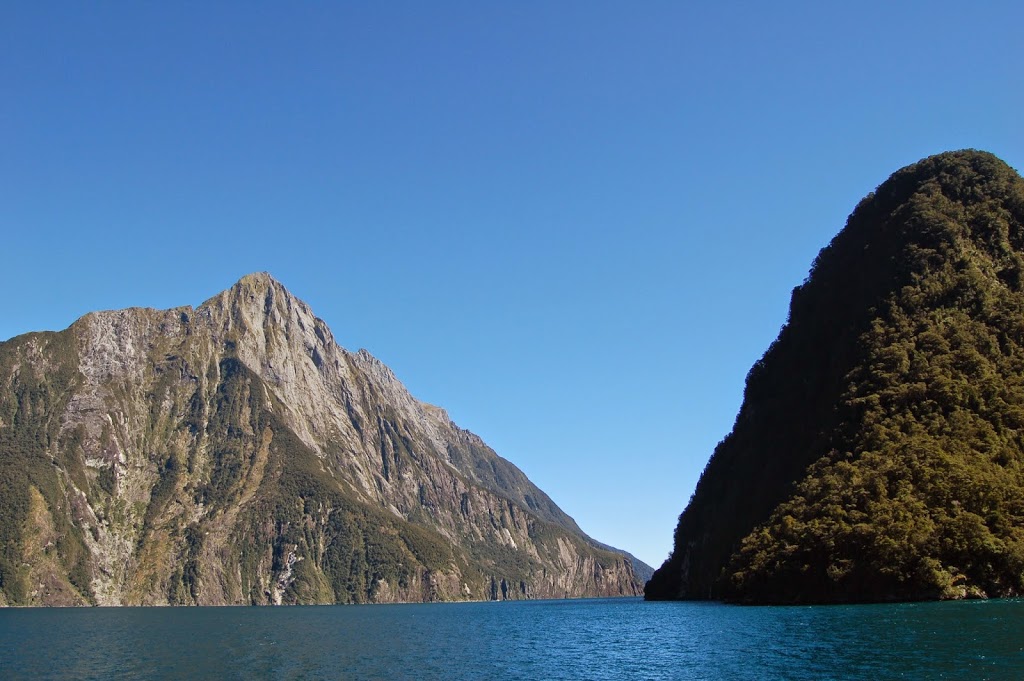 I'm Milford Sound and so's my wife
The view is so astounding that you begin to take it for granted very quickly and then you find yourself asking, what's next?
Don't get me wrong, Milford Sound is an absolute must visit and I was not disappointed at all in its beauty but perhaps the overwhelming majesty it holds is better served with less traffic and a more personal experience. As you watch each boat float toward a rock full of seals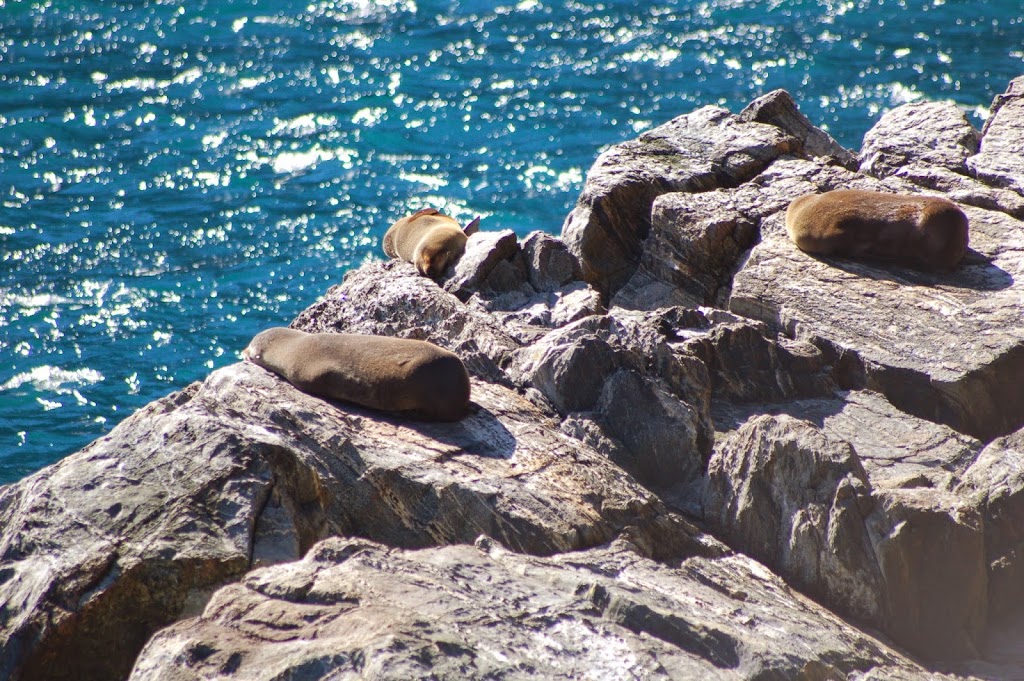 Have I told you the interesting thing about….?
or a waterfall it kind of feels like a fairground ride when the attraction resets itself afterward ready for the next party or perhaps it is the girl that is just so beautiful that no-one ever asks her out because they think she will say no.
Where's the Black Pearl?
Milford Sound Underwater Observatory
Happy Days!
In retrospect I'm glad I didn't forward wind to this part of the holiday, there are many moments that are just as memorable and they mostly involve people. Like the person we met back in Arrowtown that night.
We decided to try and make ourselves some time and so took the extended run from Milford back to a campsite we had enjoyed only two days earlier in Arrowtown but first, absolutely starving, we needed to find the pizza place. We had almost given up looking when I spotted it and this uncovered an unexpected highlight of our trip. The menu looked good and contained some more unusual pizza toppings like lamb and tzatziki so we opted for a veg option on one side and the aforementioned lambsy on the other.
It was not this though that struck gold with us, it was our host. At first, I have to admit, I thought she was just another very friendly waitress as the speakers in the place blasted out Every Breath You Take by The Police including something I'd not heard for a long time: the sound of a scratch. Michelle pointed out the presence of a turntable and when we delved into some serious subjects with her (who wasn't a waitress but actually owned the place), we realised she must have been born in a different time. Our time. There was no iPod or radio playing, these were records, albums with sides. She bought them over and some of them like Neil Young and Lou Reed were dog eared and falling apart. Pink Floyds' Dark Side Of The Moon had a gatefold sleeve and I opened it like the antique it now was and saw how the album had been originally set up.
We requested a track from it and our host duly played the whole side of the album! She then turned it up and while her staff threw pizza dough into the air, Dave Gilmours unmistakable vocals and guitar filled the room. She told us that she was also a traveler and believed in the one chance we are given at life. Of course, its what we have all been saying for years, but this girl had turned the words into actions. She thrived on the new and reached out actively for experiences beyond the workplace. She was a person who wasn't going to waste a minute and even though she ran the franchise she had plans to visit South East Asia. In her short life (and we placed her age at around 26, 27) she had already seen more than we have in our 40's and that is because we sunk our claws into careers and making money. We lived more for the promise of a holiday rather than actively pursuing the places we had not visited.
Here was another reminder to grab it all and go. Another person who admired our gumption and had some of her own. She is not the first person to take an interest in us, I would say that the Kiwis and Aussies are genuinely interested in those that visit their country and actively make an effort to speak to you no matter what job they do. It is a virtue that is somewhat missing in our culture but then our population is a little larger.
If you're ever in Arrowtown then visit Off-Piste Pizza for great stone-baked pizzas and authentic rock!We exchanged email addresses and who knows, one day, we may yet meet again!